Selecting a good convection countertop oven among the hundreds of options available in the market isn't easy peasy, but it will be for you. We've developed this guide to discuss the top 10 best convection countertop ovens of 2023.
Our team has evaluated these ovens for their performance and reviewed the features like size, capacity, durability, and performance of all 10 countertop ovens and discussed why they're good for you. This will help you understand which convection countertop oven is best for your kitchen.
So let's get into the details and find out the best option for you!
Top 10 Compact Convection Ovens for Your Countertops
Here's the review of the top 10 convection countertop ovens. These ovens are different in terms of features and prices, so make sure to go through the review keenly to make an informed decision.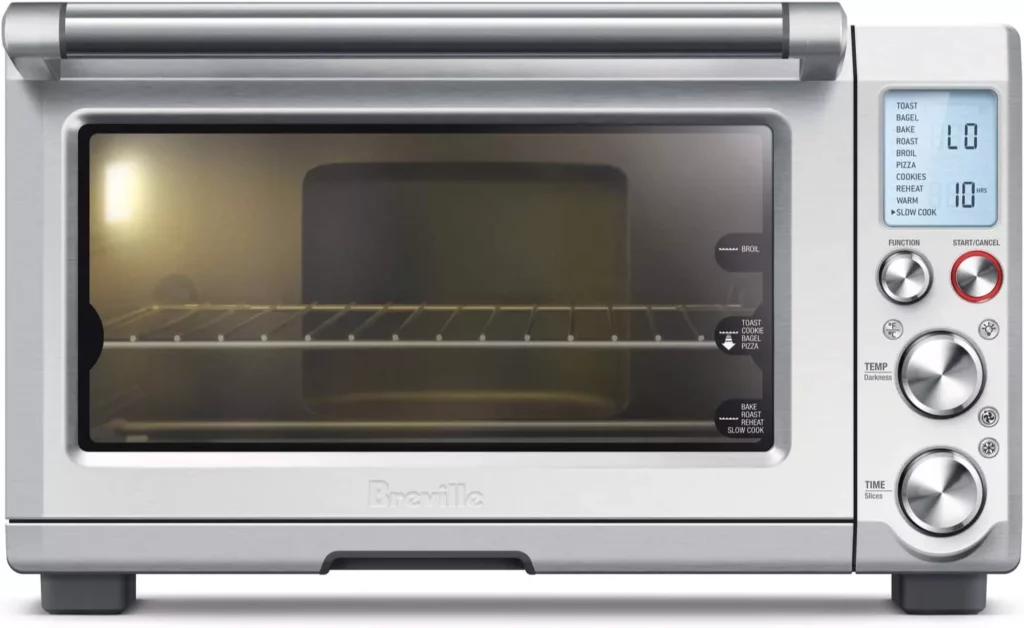 On the top of our list of best compact convection ovens is Breville Smart Oven Pro. If you want a good quality stainless steel convection oven, the Breville Smart Toaster Oven might be an excellent solution for you. It has a capacity of 1 cubic foot, and the size is 14.5″ x 18.5″ x 11″ inches.
The Breville Smart Oven Pro is performed outstandingly because it has this awesome Element IQ technology. It has 5 quartz elements that work independently to ensure the oven heats evenly. So, you can count on your food turning out perfect every single time.
And guess what? It also has a convection fan, which means your food cooks even faster because the hot air circulates all around.
Not only is this oven top-notch in terms of performance, but it's also a breeze to use. The controls are dead simple and easy to figure out, and the display is big and clear, so you won't be squinting to read it.
Coming to the cleaning, it's a breeze. The crumb tray is removable. It's not installed inside the oven beneath the bottom rack, which makes it easy to use.
In a nutshell, the Breville Smart Oven Pro is the bomb. It's got the smarts, the speed, and the safety features to make your cooking experience a piece of cake (pun intended).
So, if you're looking for an oven that's easy to use and delivers amazing results, this is the one for you.
Pros
1 cubic foot capacity
Offers 10 cooking functions for versatile use.
Excellent cooking performance through convection and Element iQ System
Separate control for oven interior light.
Easy to clean
Comes with a 1-year limited product warranty.
Cons
The sides and top of the oven can become too hot.
No air fryer option
Higher price
Takes space on the counter as it requires a few inches for ventilation.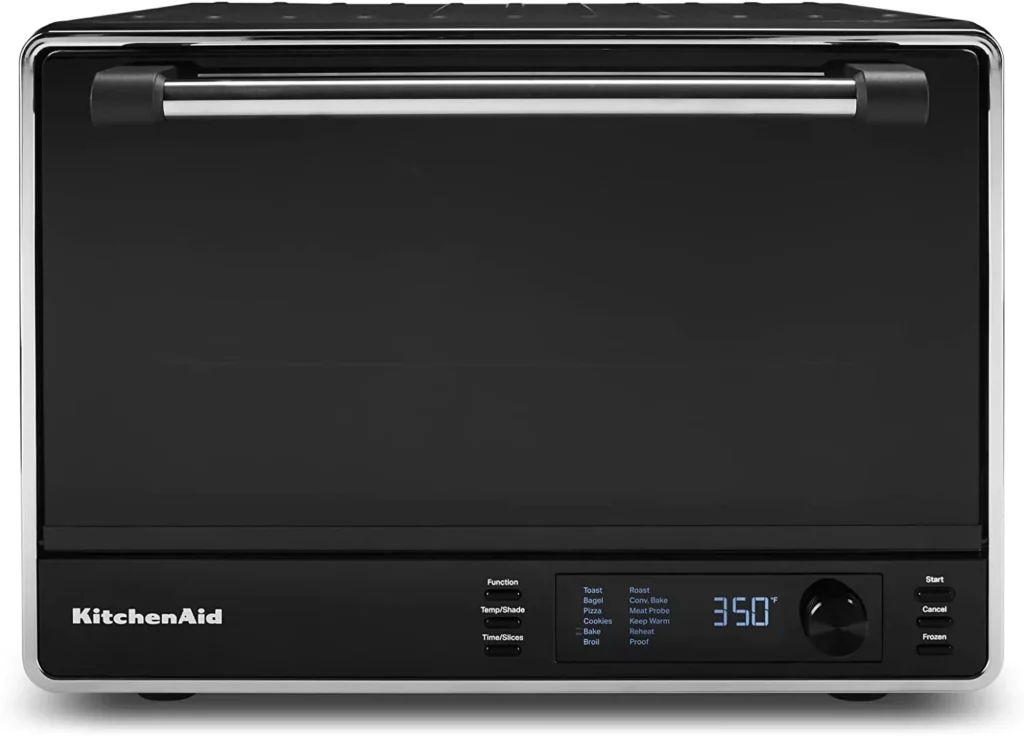 The KitchenAid dual Convection Countertop is a medium-size (1 cubic feet) black oven featuring a modern and elegant look. The overall size is 16.4 x 18.5 x 13 inches, and it has a place to hold 3 racks at a time.
If you set the tray on the bottom rack, an entire chicken can also fit in the oven, allowing you to roast it easily at home.
The total preset settings of the oven are 12 for toast, bagel, pizza, cookies, bake, broil, roast, convection bake, meat probe, keep warm, preheat, and proof. These functions work exceptionally well and provide good results regarding tasty food.
You can change the temperature, timer for up to 120 minutes, and even the shade of toast from the control panel.
The KitchenAid KCO255BM Convection Countertop Oven is easy to clean. The oven's interior is non-stick, and the removable racks and drip pan are dishwasher-safe. The oven also has a self-cleaning function, which makes it even easier to keep clean.
In short, the KitchenAid KCO255BM Convection Countertop Oven is the best choice for small households or those who want a versatile and stylish appliance. It is easy to use, has several features, and is easy to clean.
Pros
Stylish and modern design adds elegance to the kitchen.
A spacious capacity for 2 whole chickens.
Reliable performance through dual convection and accurate temperature
Easy-to-read digital display for convenient monitoring.
Non-stick Interior and removable trays for easy cleaning.
Built-in temperature probe ensures perfect cooking results.
The interior light remains on during the cooking process
Cons
Burning smell if crumbs fall on heating elements
Not equipped with an air fryer preset.
The exterior gets hot during operation.
The Second best countertop convection oven is the Panasonic Homechef 7-in-1 compact oven. It's expensive but worth the price.
The Panasonic HomeChef Oven has a .7 cubic foot capacity, which is small enough to fit on a countertop but large enough to cook for a small family. The interior is non-stick and easy to clean, and the oven comes with a variety of accessories, including a rotisserie spit, air fryer basket, and a steam rack.
The Panasonic HomeChef is easy to use. The controls are simple and straightforward, and the oven has a number of pre-programmed settings for common cooking tasks. The oven also has a keep-warm function, which is great for keeping food warm until it's time to serve.
In terms of performance, HomeChef has done a great job. Its convection bake function produces evenly cooked food, and the air fryer function produces crispy, delicious food with little or no oil. The steam function is also effective, and the slow cook function is great for making soups, stews, and other dishes that require long, slow cooking.
The reason behind its high price is excellent quality. It may look ordinary from the outside, but the inside is well-made.
While looking inside of the oven, you'll notice the thick metal walls and rubber seal on the door. The drip tray, two metal trays, and wire racks also come with the oven; all are fantastic in quality.
The drip tray is at the bottom (outside), and you can easily take it out or put it back inside. After removing the tray, you can clean it, along with all the racks, and you're good to go for another round of cooking.
Pros
Consistent temperature and even heat distribution
Excellent quality with thick metal walls and a strong door
Small enough to fit on a countertop but large enough to cook for a small family
The 2-level steam settings work outstandingly.
Air fry option for healthy cooking
Easy-to-use countertop oven with a large LED display
The spacious interior is easy to clean.
Cons
It takes time to preheat.
The lowest possible temperature is 215°F, not 200°F
The maximum possible temperature is 445°F, not 500°F
The capacity of only 0.7 cubic feet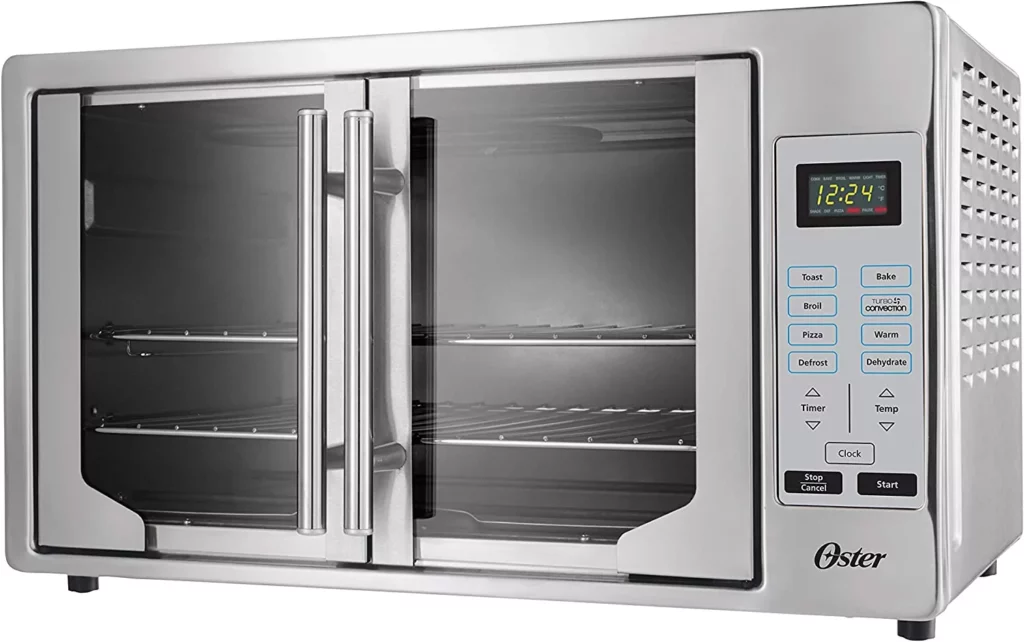 The 3 ovens discussed previously were in small to medium sizes, so we decided to pick an XL size(20.15″ x 23.8″ x 15.1″) convection oven of Oster. It's a perfect option for someone who cooks a lot and usually makes up to 16″ inches of pizza.
First, let's start with the design; it features outstanding French doors. The transparent doors and always-on interior light allow you to check the food while cooking.
The comes with two racks, a non-stick pan, and a drip tray that goes beneath the second rack and helps catch crumbs.
The preset settings are 8, toast, broil, pizza, defrost, back, Turbo convection (a must-have feature for faster and perfect cooking), warm, and dehydrate. Along with the preset settings, you can set the temperature and the timer for up to 90 minutes.
The cleaning isn't so difficult; the Interior is non-stick coated, so cleaning it won't be an issue. Moreover, you can easily take out the drip tray and clean the crumbs.
One thing that can be your major concern about this oven is the hairline gap between doors. Don't worry, the gap is part of the design to prevent doors from thermal shock. You might suspect that the gap causes heat to escape, however, it's not true. The oven functions to perfection!
Pros
XL size convection oven, suitable for cooking large quantities.
French doors with transparent design for easy food monitoring.
The user interface is simple, with a digital display
Features a light inside the oven
The excellent construction quality of the oven
Cons
You can't control the light; it always stays on while cooking.
The top of the oven gets very hot during use.
Double racks are closely spaced.
It takes time to preheat before cooking.
The door needed full swing to stay open.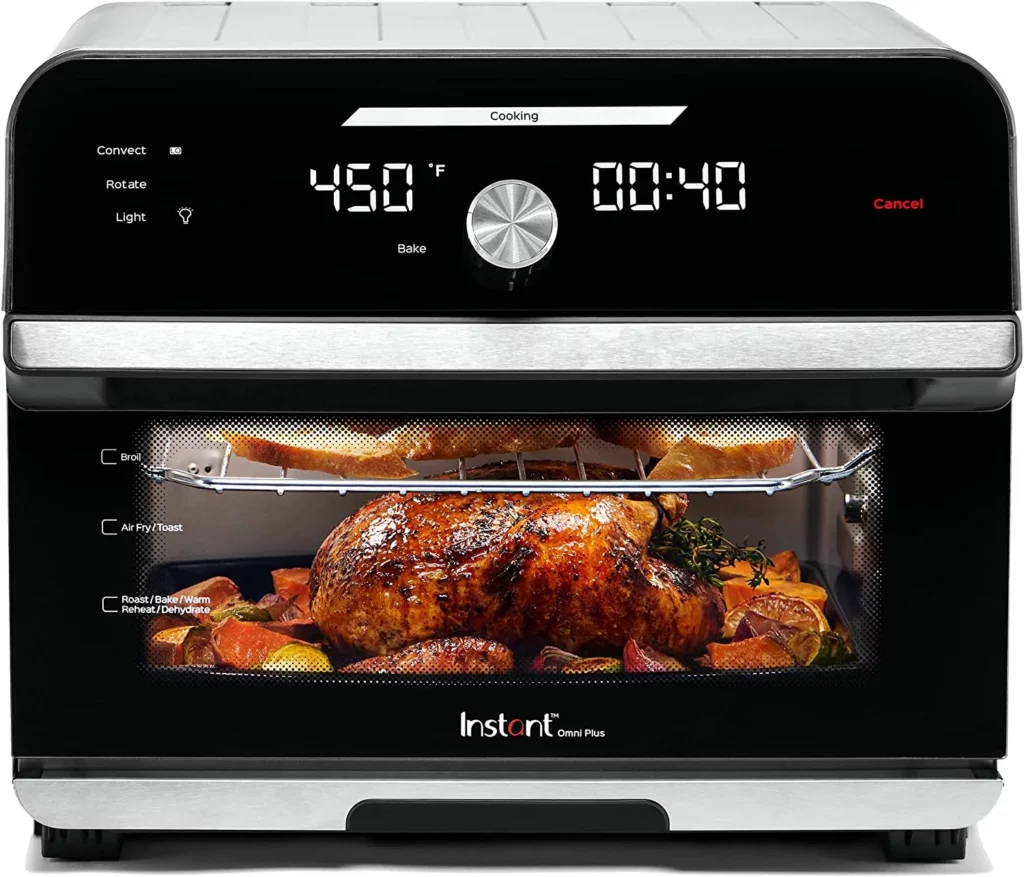 Our next pick that' we've reviewed is the Instant Omni Plus 19 10-in-1 toaster oven. It's a fantastic oven with a capacity of 0.6 cubic feet in which you can fit up to 12 inches of pizza or 6 six slices of bread at a time.
The dimensions are 12″ x 12″ x 13.89″; you only need about 12 inches of space length on the kitchen countertop. The 10 cooking functions are air fry, broil, bake, roast, dehydrate, reheat, rotisserie, toast, warm, and convection.
The Omni Plus has a game-changing air frying function that delivers crispy fried foods with less oil, maintaining a moist and tender interior. It offers precise temperature control for toasting and various browning levels. Additionally, it's a versatile appliance with baking, roasting, broiling, reheating, and dehydrating capabilities.
The user-friendly interface allows an easy selection of functions, temperature adjustment, and monitoring of the cooking process. It also provides pre-set cooking modes for popular dishes, simplifying cooking times and temperatures. When it comes to preheating, it saves a lot of time.
Cleaning? Who cares about this oven?
The crumb tray is easily accessible from the outside, making cleaning easy. And the removable items can be cleaned in the dishwasher, a convenient feature for many people.
The Interior is good in quality, it's made of stainless steel, and the glass door is double-layered, which helps maintain the temperature.
In short, the Instant Omni Plus 19 QT/18L Air Fryer Toaster Oven Combo is a reliable and versatile kitchen appliance that offers a range of cooking options in a spacious and user-friendly design.
Pros
Portable oven
Preheat faster than other ovens and cook food flawlessly
Excellent built quality (stainless steel oven)
Easy-to-use interface with a digital screen.
It's easy to clean and comes with dishwasher-safe accessories.
A baking tray, rack, air fry basket, rotisserie spit, forks, and lift tool are included.
Features interior light with a separate button to control it.
Cons
The price is high considering other ovens
The capacity is only 0.6 cubic feet.
It takes space for ventilation.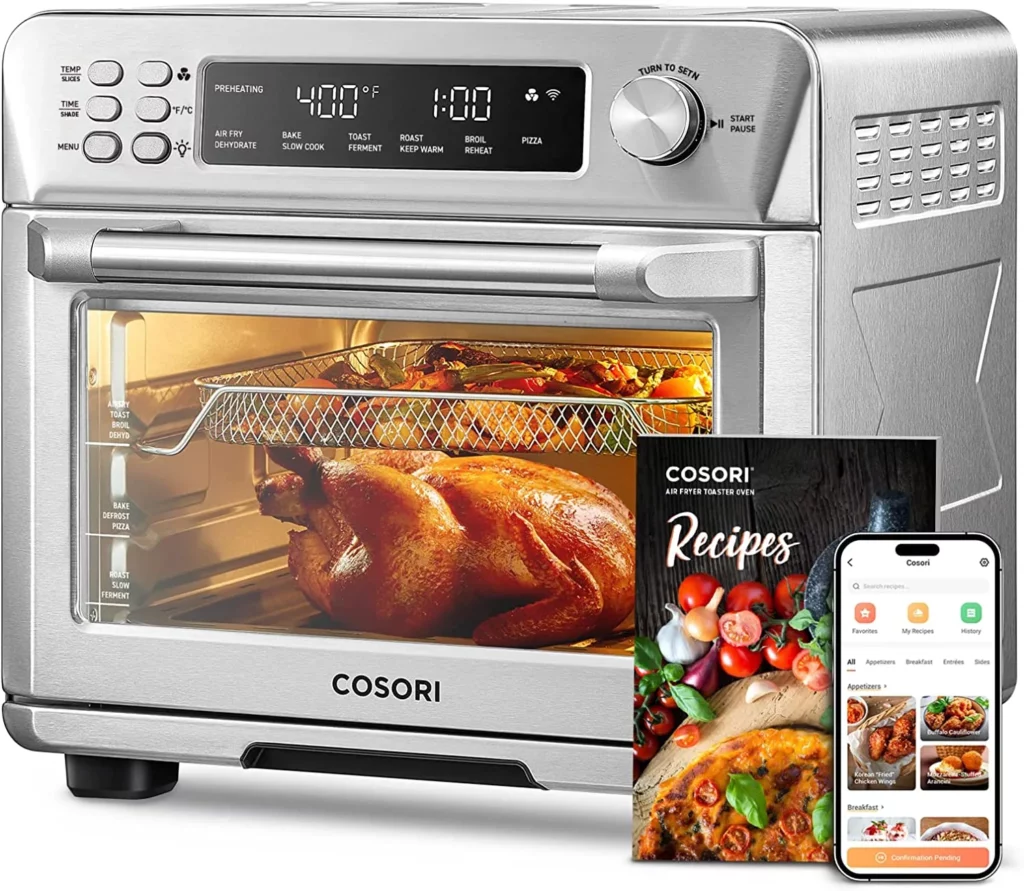 If the options among previously discussed best convection countertop ovens seem expensive, the COSORI air fryer toaster oven might help you.
It's a 12-in-1 convection oven with the cooking features air fry, roast, bake, broil, toast, dehydrate, slow cook, ferment, keep warm, reheat, pizza, and defrost.
The cooking capacity is 0.8 cubic feet, allowing you to easily bake a 12 inches pizza or a chicken weighing up to 5 lbs. Overall, the look and control are both great. It has a strong transparent door beneath the big digital display.
The user-friendly controls, digital display, and pre-set cooking modes make operating the oven easy and convenient. Besides everything, you'll also like the smart control. It's compatible with Alexa and VeSync app that shows you all details when food is ready.
The COSORI Air Fryer Toaster Oven Combo stands out with its powerful air frying capability, cooking food with little to no oil for guilt-free crispy dishes. It also offers various cooking functions, from baking to toasting, roasting, and dehydrating, allowing you to prepare a variety of meals.
With a spacious interior and included accessories, it accommodates different food sizes and offers versatility. The oven's convection heating technology ensures consistent and even cooking results, making it reliable for various recipes.
Cleaning part!
You can easily remove the crumb tray from the outside, making cleaning simple.
In a nutshell, the COSORI Air Fryer Toaster Oven Combo is a highly recommended kitchen appliance that combines performance, convenience, and versatility.
Pros
12-in-1 convection oven with many features
Large cooking capacity and even heating
Stainless steel material and solid design
Easy-to-clean
It's a smart oven, compatible with Alexa and VeSync app.
An affordable oven
Cons
The toast function doesn't work well
Some customers received dented ovens
Takes time to preheat
Capacity is only 0.6 cubic feet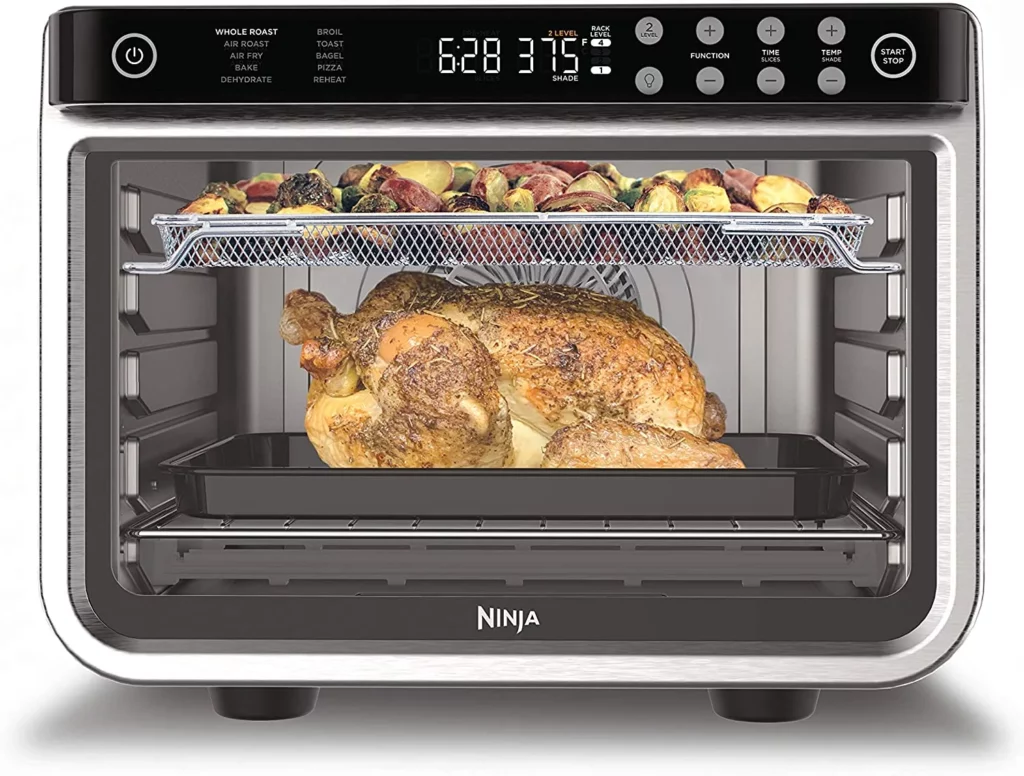 Another extra large-size oven (17.09″ x 20.22″ x 13.34″ size) we've reviewed is the Ninja DT201 Foodi XL Pro. It's a bit expensive oven, perfect for a medium to large family, but worth your money because of the quality and features.
It has 10 cooking options air fry, air roast, bake, whole roast, broil, toast, bagel, dehydrate, reheat, and pizza. All of these work well, and the preheating time isn't too much, only about 1-minute maximum. The oven's capacity is great as you can cook 5-lb chicken or 12-lb turkey. Using its 2 racks and super convection, you can also cook 2 pizzas of 12″ simultaneously.
The oven looks fantastic and speaks of its quality. It's made of stainless steel material. We also like the big digital display and touch-sensitive buttons above the door handle. Inside, it has a place to position four racks at a time. It has a strong transparent door that allows you to monitor your food. You can turn on or off the interior light with the help of the switch on the control panel.
Then comes the actual thing, what we call performance. The outperforms in every way. The temperature is accurate and heat distribution through its powerful convection fan is even. The result is from roasting to baking and toasting to air frying, everything is done excellently.
Like many other users, though a matter of time, we could anticipate that grease buildup inside the oven can be challenging to clean due to the heating elements' design. Another drawback is that its jet convection fan is noisy, which is supposed to be when so dynamic.
Pros
Outstanding performance and great taste of food.
Quick preheating time of about 1 minute.
Fantastic look and quality.
Transparent door and interior light for easy monitoring of food.
Easy to use–thanks to a large display.
Suitable for cooking for large groups.
Cons
Not easy to clean
The trays are not dishwasher safe
This large size oven is not suitable for small families
All racks need to be removed to take out the drip pan.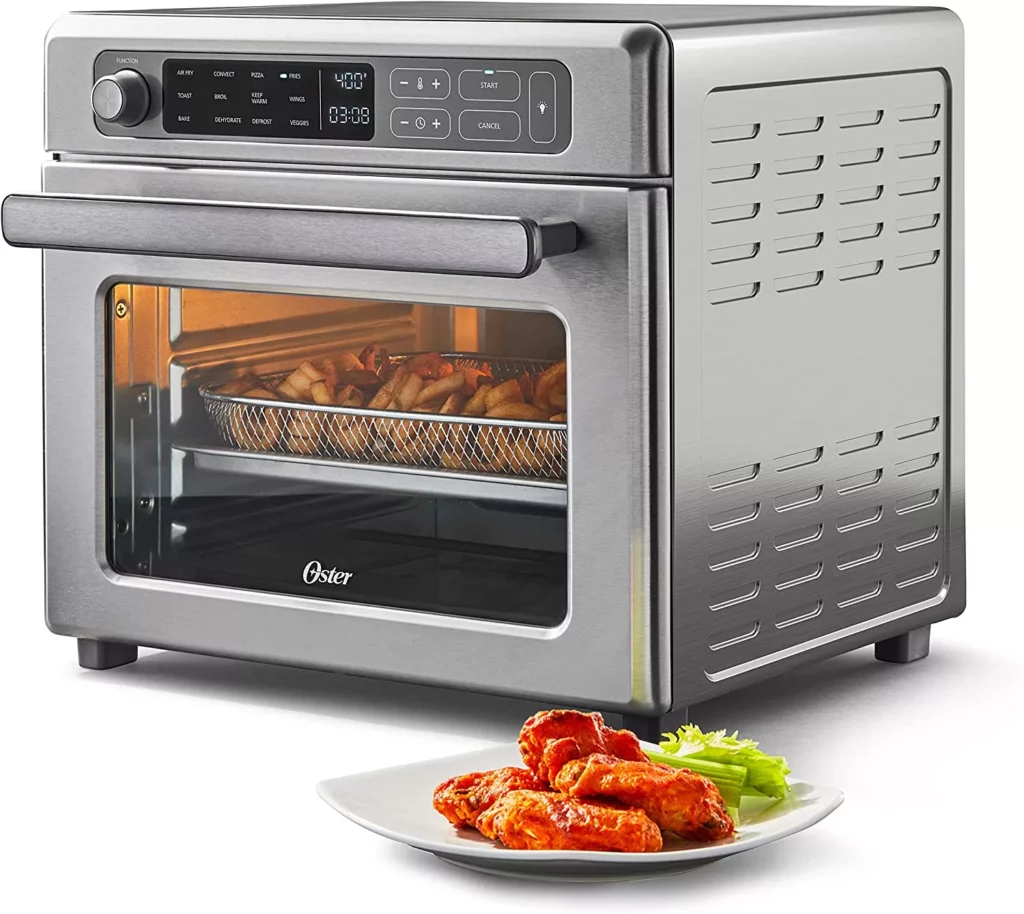 This Oster digital air fryer oven is far more affordable than the one we've discussed above. The size is 15.8″ x 16.5″ x 14.5″, and the capacity is 0.7 cubic feet. Yes, it's not an extra-large oven but excellent in terms of performance.
The cooking functions of the oven are 12, convection oven, broiler, toaster oven, dehydrator, fries, pizza, keep warm, wings, veggies, bake, broil, and an air fryer. You can easily select any of the cooking settings with the help of the user interface on the top of the door.
In terms of performance, RapidCrisp is a solid performer. The convection bake function produces evenly cooked food, and the air fryer function produces crispy, delicious food with little or no oil.
The rotisserie function is also effective, and the keep warm function is great for keeping food warm until it's time to serve. And the unique function is "Fries." No more buying from eateries!
It has a digital display, a knob to select the cooking function, touch-sensitive buttons to set the temperature and turn on/off the oven, along with a light on/off feature. The quality is also good; the exterior and Interior are both made of stainless steel.
Due to the stainless steel interior and the drip tray, cleaning will be easy for you. Not to forget, all removable items are dishwasher safe.
Pros
Affordable digital air fryer oven with good performance.
Compact size with 0.7 cubic feet capacity.
Offers 12 cooking functions for versatile use
User-friendly interface for beginners and seniors
Easy cleaning
Features interior light along with a switch to control it manually.
Durable with a 1-year warranty.
Cons
The oven exterior can become hot during cooking.
Suitable for a small family only.
Comes with only one rack.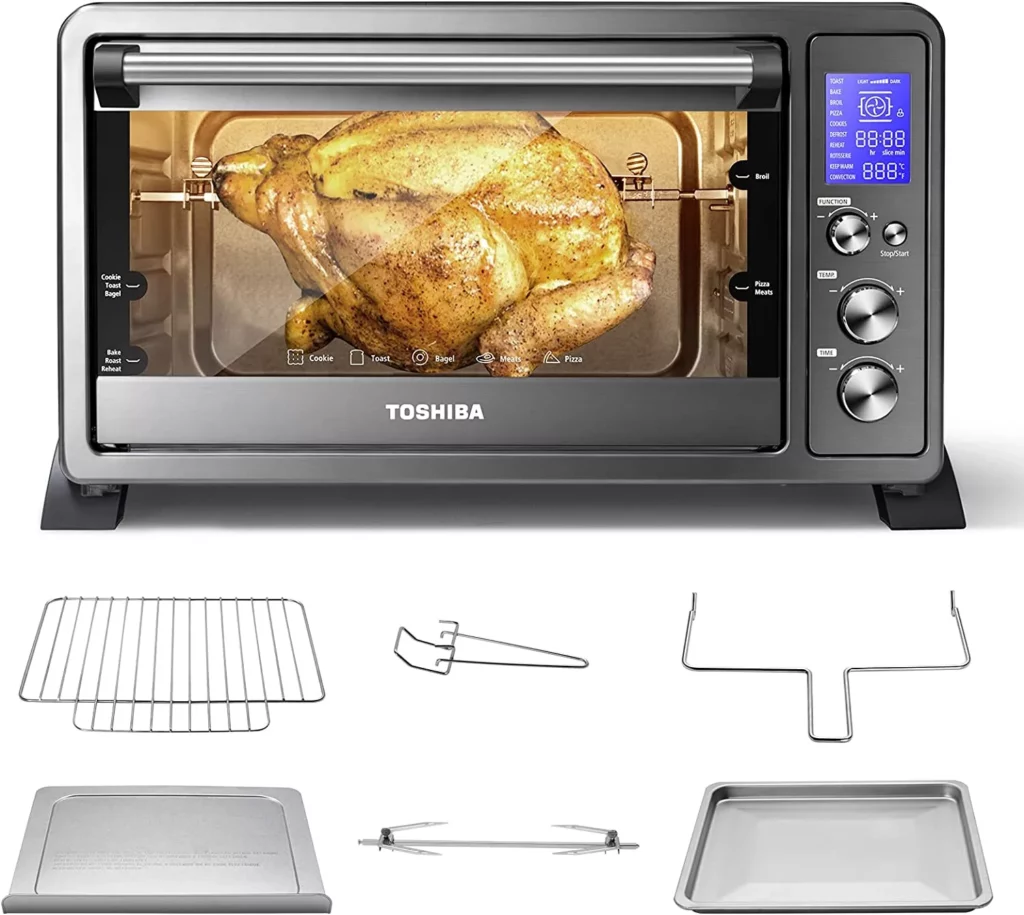 Do you love Rotisserie chicken? If yes, this TOSHIBA AC25CEW convection oven is the right choice for you. Its capacity is 0.88 cubic feet/ 25 litre with external dimensions of 15.59″ x 18.98″ x 10.78″. You can even choose another option of 32 litres capacity.
The manual tells that you can fit up to 4 lbs size of a chicken; the truth is you can throw up to 6 lbs of chicken in it. Isn't it great?
The oven is pretty versatile. It has 10 cooking options, starting from toast, bake, broil, pizza, cookies, defrost, reheat, rotisserie, keep warm, and ends on convection.
The display size is big, allowing you to see the details easily. Below, you can see three dials and an on/off switch. The dials are for selecting functions, temperature, and timers.
Hence, the quality and performance are up to the mark for this price. However, you may have to compromise on cleaning features.
First, it doesn't come with dishwasher-safe accessories, and then the crumb tray is difficult to use. It's almost impossible to remove the crumb tray safely. The crumbs will fall on the Interior. This is why we think removing the tray from the outside would be better.
Pros
Ideal for cooking Rotisserie chicken
Large capacity of 0.8 cubic feet for up to 6 lbs of chicken
Large display for easy control.
Good quality and performance for the price.
The package includes a crumb tray, rotisserie kit, rack, pan, and rack clamp.
One-year warranty and lifetime customer support.
Cons
Not easy to clean.
Accessories are not dishwasher safe.
Crumbs fall back into the Interior, making cleaning difficult.
The exterior of the oven becomes hot during use.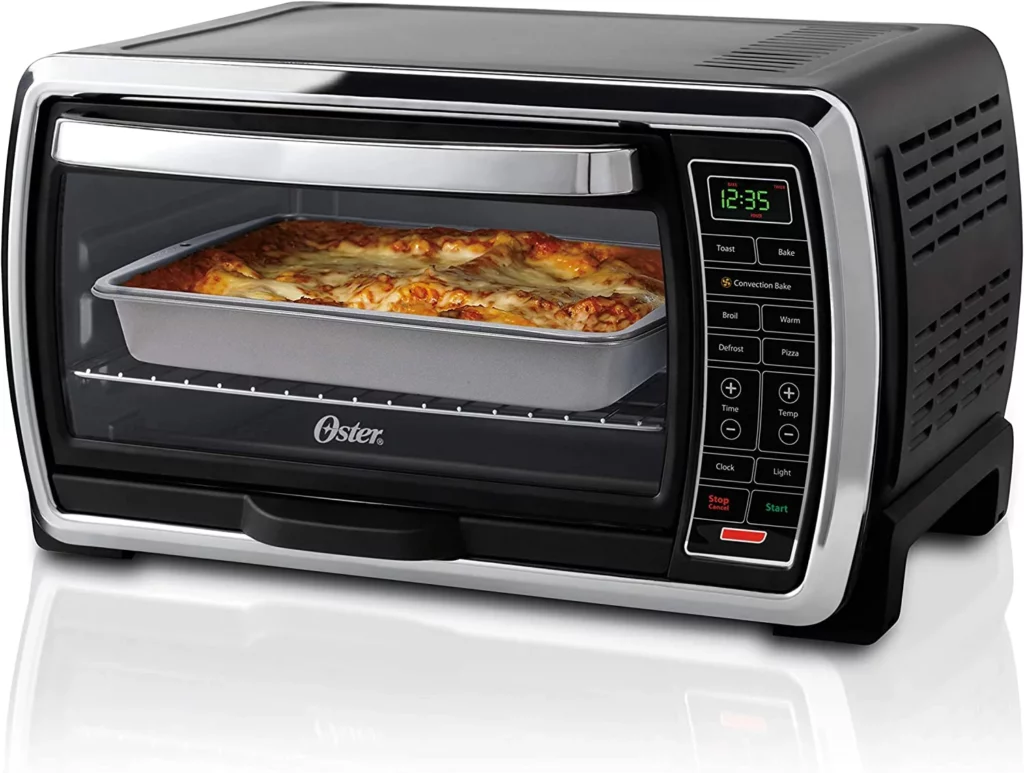 Do you want a modern digital design oven that compliments your kitchen? You should have a look at this Oster toaster oven that's affordable too. Its overall dimensions are 14.6 x 18.1 x 22.5, with a capacity of 0.8 cubic feet.
The oven features a touch-sensitive control panel and a digital display allowing you to control the function easily. At the bottom, you can see the crumb tray that can take out from the outside. It's a good feature because you only have to take out all racks to clean the crumb tray.
Not highly versatile, yet it's equipped with everyday cooking versatility. So, you can use its 7 cooking functions toast, bake, convection, broil, warm, pizza, and defrost, which work perfectly fine. You can easily bake 12 inches of pizza or toast six large slices of bread.
When it comes to quality, it's good despite the low price. The Interior of the oven is stainless steel, and it's non-stick.
The cleaning is easy, the trays can be removed, and you can wash them. However, the only issue is you can't clean the accessories in the dishwasher.
Pros
Compact dimensions, suitable for smaller spaces.
Easy to use oven through its touch-sensitive control panel and digital display
Accurate temperature ensures incredible cooking performance.
Interior light with a separate button to control it.
Good quality construction, despite the low price.
Easy to clean oven.
Cons
Manual cleaning is required; not suitable for a dishwasher.
No preheat notification.
How Should You Choose the Best Countertop Convection Oven?
We've got a handy buying guide to help you get the right countertop convection oven. Here we've listed a few factors, and considering them, you can make a better choice. So, let's dive in and find the perfect oven for you!
Size and Dimensions
First things first, consider the size. Countertop convection ovens come in various sizes, so make sure you measure your countertop space to ensure a good fit. You don't want to end up with an oven that takes up your entire kitchen!
Capacity
Next up, let's talk about capacity. Think about the amount of food you typically cook. If you have a big family or love hosting parties, go for an oven with a larger capacity. But if you're cooking for one or two people, a smaller oven should do the trick.
Temperature Control
Temperature control is another important factor. Look for an oven that offers precise temperature settings. You want to be able to adjust the heat to cook your dishes to perfection. Some ovens even have pre-set cooking modes for popular dishes, which can be a time-saver.
Convection Technology
Convection technology is what sets these ovens apart. Make sure the oven you choose has a good convection fan. This fan circulates the hot air inside the oven, ensuring even cooking and crispy results. Nobody wants unevenly cooked food, right?
Advanced Features to Ensure Best Cooking Performance
Modern-day ovens don't simply have heating elements and a convection fan. Instead, they've inbuilt advanced features for speeding up the cooking process with even heat and more control.
Some of these features are:
Turbo convection
Turbo convection is a type of convection cooking that uses a fan and a heating element at the back of the oven to circulate hot air around the food. This helps to cook the food even faster than convection cooking. In contrast, regular convection cooking uses only a fan to circulate hot air around the food. This is why turbo convection is helpful for challenging cooking like air frying and baking pizzas.
Element IQ System
Some ovens like Breville use Element IQ Technology for precise and even heat distribution. This is achieved through the use of five quartz elements that are evenly spaced throughout the oven cavity. The elements are also independently controlled, which allows for precise temperature regulation.
Ease of Use
Ease of use is key. Look for an oven with a user-friendly interface and intuitive controls. Digital displays and clearly labelled buttons make your cooking experience a breeze. Nobody wants to spend hours trying to figure out how to use a complicated oven!
Cleaning
Cleaning up can be a hassle, so consider an oven with easy-to-clean features. Removable trays and non-stick interiors are a plus. Trust me, you'll thank yourself later when it's time to wash up.
So, there you have it! Follow this buying guide, keep your cooking needs in mind, and you'll be well on your way to finding the best countertop convection oven that suits your style and makes your kitchen adventures a success. Happy cooking!
Final Thoughts
So have you selected any one of the convection countertop ovens for yourself? All the ovens are good, but remember your budget and requirements matter most. If an oven is great for us, it doesn't mean it suits your kitchen.
It's better to consider the questions like how much food you cook, what size of pizza you usually bake, do you need rotisserie functions. First, find the answer, then select the convection oven.
BTW we love the Breville Convection oven the most, and second, the Cosori Toaster oven is the best among budget choices.
We wish you the best of luck in choosing your oven!
mama-cucina.com is a participant in the Amazon Associate program and will earn from qualifying purchases.