Who doesn't daydream of having a French-door countertop oven? If you have got an aesthetic sense, a French door oven is the only oven you would ever buy. 
Even more, whether you like baking several recipes (pies, pizzas, cakes, turkeys, etc.), reheating cold meals, or defrosting frozen food varieties for your dinner preparations, French door toaster ovens can cater to your different cooking and baking needs as they're truly multi-functional.
But finding the right one is challenging. The reason is that the options are pretty few.
Just relax; we're here to take care of your buying decisions!
To help you make the right decision and cook better–we've come up with this well-researched guide. This article is based on price vs. quality features and genuine buyer feedback.
You just need to go through the list and pick the best one you think meets your needs. 
Let's get started!
NOTE: Before we start with our best French door toaster oven reviews, remember that all French door ovens have one significant (usually misunderstood) drawback: the gap between 2 doors. 
It's not a con, in fact, though it causes a bit of heat loss, and food cooks less fast near the doors. It's part of the design—it allows for easy opening and closing of doors. Otherwise, the doors would strike and shatter rather quickly.
5 Best French Door Countertop Ovens Reviews
Here are our top 5 picks of the best French door toaster ovens that will step up your cooking game like no other.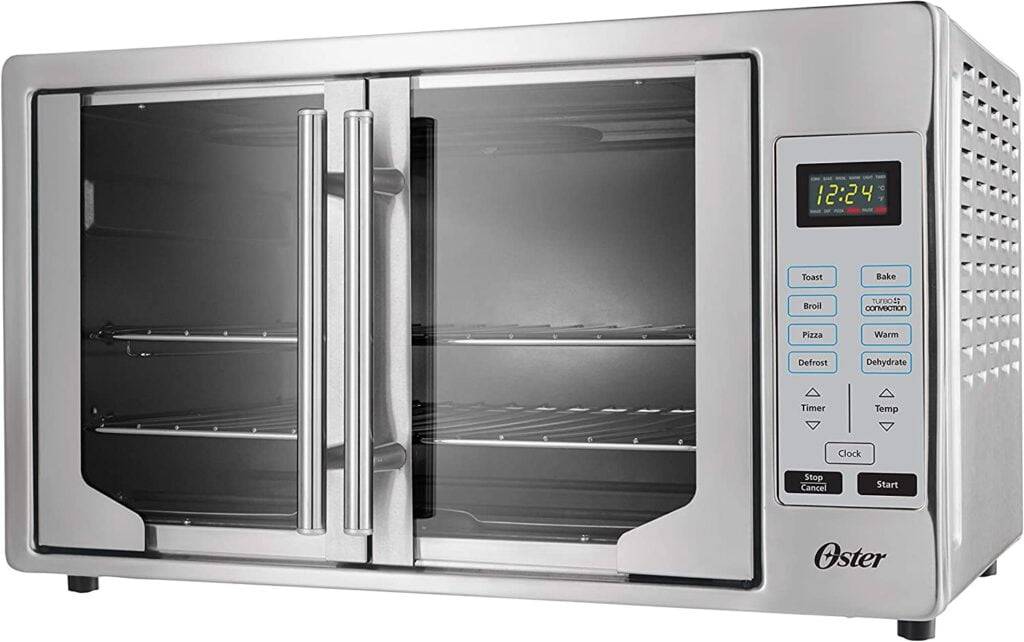 The Oster Convection Countertop Toaster Oven with French doors is our top pick for you. This toaster oven is a wonderfully good-sized, super convenient, and affordable kitchen appliance. You're going to love its features:
Quick Features
Sleek design and large capacity 
An 8-in-1 solution on a reasonable budget
Excellent temperature control, cooking performance, and cleaning process 
Quality construction and good warranty
Design, size, and capacity 
The Oster French Door Toaster Oven is a decent-sized oven that has made it to the top of the list today. The design is super sleek with French glass doors. 
This oven has a brushed stainless steel exterior with digital controls. It looks incredible and attractive on the kitchen countertop. 
The French doors are mechanically linked. You can use a single hand to open the French doors-you just need to pull one door, and both doors will open. This feature helps you get the food in and out without the hassle.
The dimensions of this toaster oven are 20.15 x 23.8 x 15.1 inches with 18.1 pounds of weight, so you can easily place it on your countertop. 
Its extra-large indoor space lets you cook multiple servings and different foods simultaneously. If you need a toaster oven with the capacity to bake 2×16" pizzas and a large-sized roast, this can be your best choice. 
The interior light is handy to allow you to monitor the cooking process. In the same way, spring-loaded doors are a win: when opened to full swing, they stay open to let you manage your food.
Unfortunately, the worst reviews for this oven have been owing to shattered doors. What if I tell you the dudes have been mistaken there?
Yes, these are not the doors to blame, but how you use them. To keep them alive, you must open them to full swing; otherwise, they will slam shut back, with the sole outcome being the broken doors.
BEWARE!
You might find folks complaining about a hair-like thin gap between the doors as a drawback. It's not the case. It's part of the design and in no way causes heat loss.
Temperature control, cooking performance, and user interface
Whether you're cooking a juicy chuck roast or baking a walnut cake or pizza, you need an excellent oven. This is where the Oster French door oven comes to rescue you.
This unique toaster oven is an 8-in-1 solution. It accompanies digital controls with eight cooking presets (toast, bake, broil, warm, turbo convection cook, dehydrate, defrost, and pizza making).
Its turbo convection feature is the most admirable. It helps you sear the meat considerably quicker and evenly. 
The Oster French Door Toaster Oven has a digital control panel that is much more accurate than analog dials. Using these digital controls, you can set up the temperature and timer of the toaster oven.
While using a turbo convection setting, the cooking process becomes even and faster. For instance, not all ovens can bake a perfect pizza because pizzas need more heat. Yet the Oster oven proves fantastic for cooking large-sized pizzas and pies.
Please don't be overconfident when you want to cook 2 pizzas simultaneously. It can be less manageable if you use an air fry setting for one pizza among these.
Likewise, apart from cooking/baking, the air frying feature comes with a learning curve. Why? The convection fan set in the sidewall is the real culprit. For air frying, the convection fan in the ceiling can do a better job, indeed.
Last but not least, only have it if you don't cook challenging recipes that call for a more precise temperature. Why are we advising you? The temperature control by 25 degrees is less precise.
Cleaning Process
The cooking quality of the Oster French door oven is fantastic; the same goes for the cleaning process.
You just need to take out one of the two cooking racks to provide room and prepare your large-sized food evenly.
Moreover, it's additionally simple and easy to clean as it accompanies dishwasher-safe accessories. 
How simple does that sound? Remember, you must take care of the crumb tray because it's lip-less and can create a mess. Should it disappoint you? NAAA!
We appreciate that the tray is non-stick. So cleaning is pain-free.
Quality and Warranty
The quality of the Oster French door toaster oven is great as it's entirely made of stainless steel. The oven material and extra accessories are excellent and sturdy. The exterior gets hot when cooking but doesn't put off much heat in the kitchen. 
Another plus point is that this toaster oven is designed for 35% faster preheating. This helps reduce the overall cooking time and uses up to 50% less energy than convection ovens.
In addition to this, the Oster French door toaster oven accompanies a 1-year limited warranty.
What are the pros?
Extra-large capacity interior (can fit 2×16″ pizzas)
Lighted interior 
An excellent baking oven
It consumes 50% less energy
Affordable 
What are the cons?
Not as good as an air fryer
The power cord is too short
The exterior and glass doors get hot when cooking
The temperature increment is not as precise: 25 degrees
Gets too hot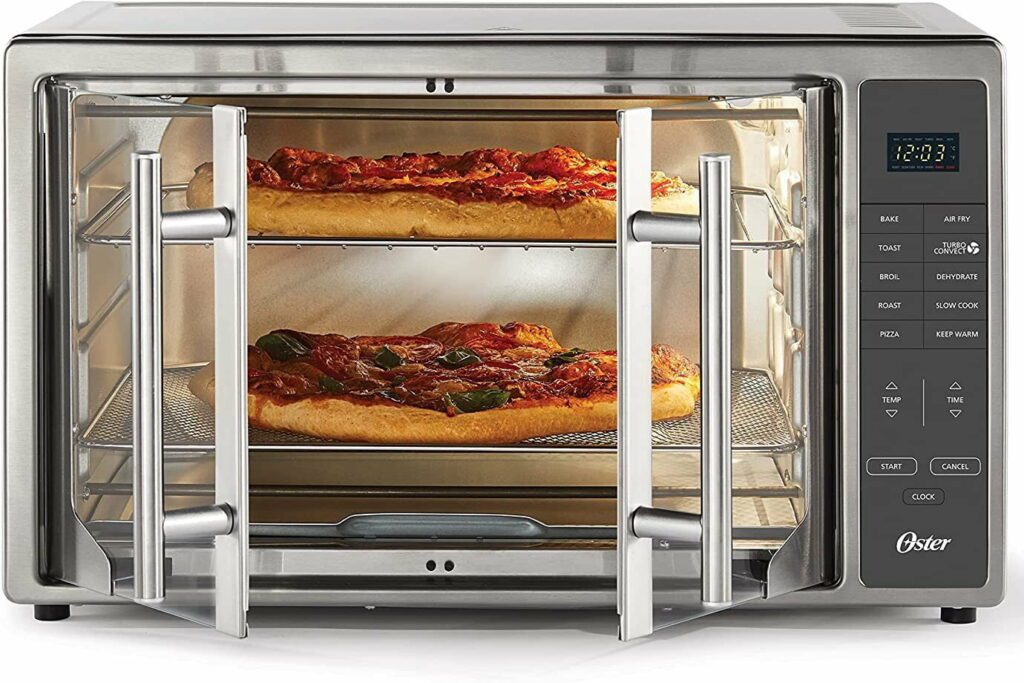 Here's our second pick again from the Oster brand. So this Oster Air Fryer Toaster Oven is remarkably unique as it has all the features a good cook wants to have in the kitchen.
And yes, here're the quick features:
Quick Features
Impressive design, large size, and capacity
10-in-1 cooking solution with great temperature control
Ease of cleaning and durability
More impressive design, large capacity, and durability
The Oster Airfryer toaster oven will be a sophisticated addition to your kitchen as it has a brushed stainless steel body. The toaster oven comes with 20.71 x 24.61 x 17.01 inches dimensions and 27.2 pounds of weight. 
Hence, it can be a good choice if you're looking for a toaster oven with a suitable size and large capacity. With this capacity, you can cook two large pizzas or a whole family-sized chicken.
The French doors are smooth enough to open both of its sides single-handedly. Yet the doors demand a full swing to stay open as they're spring-loaded. Otherwise, you'll end up busting them, which can cause shattering. 
This toaster oven comes with three rack positions so that you can cook a variety of meals at the same time. 
You don't have to purchase extra cooking accessories for this toaster oven. The racks (fry rack, broil rack, baking pan) and crumb tray are nice and sturdy enough to hold a big casserole dish and spacious enough for a 14-inch pizza tray.
The material quality is also amazing. The stainless steel body is durable, and the extra accessories are strong, sturdy, and appear to be quality materials. 
10-in-1 cooking solution with great temperature control
This air fryer toaster oven provides you with a high-end restaurant feeling whenever you cook, bake, or broil. It has all the cooking features that will make you feel like a master chef in the comfort of your own home.
 Bake and roast whatever you want, but forget about air frying in it (it's not an air fryer). The convection fan in the oven has been placed in the side wall, which affects the air rotation that air frying needs — in the air fryers, the fan sits right in the ceiling to create a burst of even heat for perfect air frying.
This Oster air fryer toaster oven has ten cooking settings; that's pretty outstanding. The preset settings include Bake, Air Fry, Toast, Slow Cook, Dehydrate, Broil, Roast, Warm, Pizza, and Turbo Convection. This feature helps you cook your food fast and evenly cooked.
Having an interior light combined with a large viewing window is quite convenient. Just put the food in, set the timer, and press start. The light turns on, and it cooks.
The preheat cycle quickly carries the oven to the ideal temperature and tells you when it's been reached. If the time is set, the timer doesn't begin until the oven arrives at the perfect temperature. 
With its auto-shutoff feature, the oven will stop automatically when your food is done.
Using this air fryer toaster oven, you can control the temperature. Its turbo convection baking technology will help you cook food with 50% less energy. It means you'll save energy while using this efficient oven. 
So much to praise, then what it lacks?
The temperature controls preciseness. Undoubtedly, the temperature is most accurate with the oven, yet it can only be controllable by 25 degrees. 
That's why, before trying tricky recipes, you must think twice! Would you?
Ease of cleaning 
You can find a non-stick tray at the bottom of the oven that catches all the crumbs. It's easily removable for cleaning. But the tray lacks lips, so be careful when you remove it for cleaning.
The metal shelf is dishwasher safe. You just have to take it out, place it in the dishwasher and clean it. The cleaning process is simple and won't take much time of yours.
The Oster air fryer toaster oven comes with a 1-year limited warranty.
In short, if the large cooking capacity and flexibility in cooking varieties are all you want, we suggest getting the Oster air fryer toaster oven. It's appropriate for your space and way of life.
What are the pros?
Large capacity (can fit 2×16" pizzas)
Easy-to-clean, dishwasher-safe accessories
It consumes 50% less energy
Incredible baking performance
The spring-loaded, full-swing demanding doors open fully
What are the cons?
Air fry mode takes longer to complete
The cord is too short (about 2 ft long)
It's not a good option as an air fryer
Temperature precision is not great (25 degrees)
The oven exteriors get scorching hot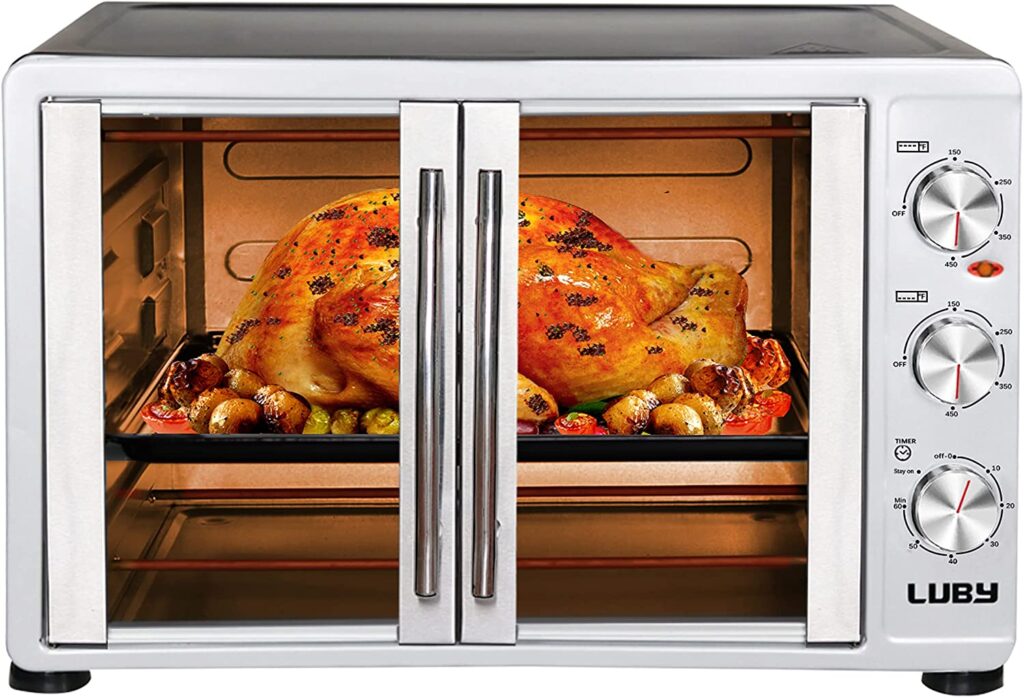 Getting top-quality ovens can be pretty heavy on your wallet. But don't worry; there are affordable options, too, that will give you proper value for money. Such is the best French door toaster oven. It's the Luby Large Toaster Oven with French doors to fit within your budget and help you cook and bake like a home chef. 
Quick Features
Incredible design and enough capacity
Temperature control and cleaning performance 
Durability and warranty
Incredible design and enough capacity
This Luby Extra Large toaster is the best combination of silver color with glass tempered French doors. This toaster oven can complement your kitchen decor with its attractive, sleek look. 
It's a large countertop French door toaster oven with an enormous capacity of 55 Liter. It has four positions for racks giving you maximum cooking flexibility. This large capacity helps you fit up to 18 Slices, a 14" large pizza, or a full-sized turkey weighing 20 pounds.
It has 16.14 x 22.04 x 14.37 inches dimensions and offers 1800 watts of power. The dial control panel is far easier to use. 
The French doors of this oven operate independently and close properly. 
Temperature control, cooking performance, and maintenance
Luby French Door Toaster Oven features separate temperature controllers. The dual analog independently controls the temperature of the upper and lower heating elements. Besides this, it has 3 easy-to-turn knobs to provide flexibility when cooking. 
With a 60 minutes precise timer, your recipes cook as long as you need, then the oven shuts off automatically. Yet, the control panel is not digital.
Likewise, we've noticed that the direction indicators on the knobs have the same color as the knobs Thus, the control panel can be challenging to read for visually impaired fellows.
The baking and broiling quality of the Luby French door toaster oven are excellent. You can cook turkey, casseroles, fish, baked pizza, and chocolate chip cookies without worrying about burning. But toasting the bread slices can be uneven if you're not toasting on the upper rack. 
The oven has proven great for coloring your baked food. The top and bottom heating elements provide sufficient heat to create crusty meals.
Speaking of the drawback, which is major and creates the actual learning curve is, no indication of when the oven has fully preheated. The oven only has an indicator light about its on/off status. So, you have to do some guesswork using an instant-read thermometer before placing your dish inside it.
Ease of use and cleaning
This non-digital oven is easy to operate for non-tech-savvy users. However, handling this oven is tricky. 
WHY? 
The oven gets scorching hot, and you can't touch it without a mitt.
When talking about cleaning, it's simple and easy to reach inside to wipe out as the interior is stainless steel. The other accessories are also dishwasher safe and won't take much time. 
Warranty
This toaster oven functions very well, just like the other expensive models. It consumes less energy when cooking.
The issue we've seen is that the Control knobs are a mess and the wire cooking racks are flimsy. They're not sturdy enough to hold large-sized food items easily, and they have no stop feature. 
PS. They can work better if you double them together.
In contrast, the Oster French door toaster oven has more convenient features, while this oven is budget-friendly.
What are the pros?
Lightweight and compact
Good capacity
Upper/ Lower heating elements have separate temperature settings
It comes with extra accessories
What are the cons?
No interior light 
It doesn't have an on/off option on the control panel
Precision is compromised (it's 50 degrees)
Flimsy racks that can't bear heavy food like turkey
Can't do air frying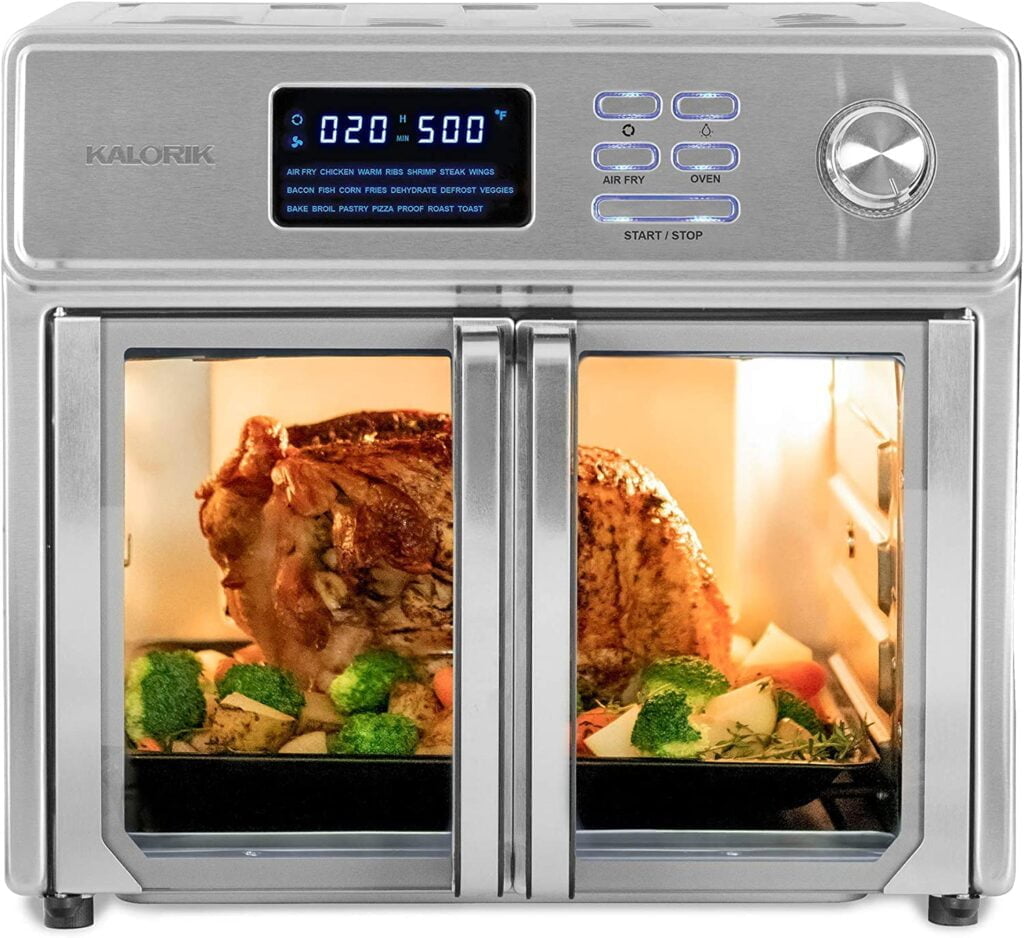 Do you love to have a medium-small capacity French door toaster oven? Kalorik Maxx Digital Air Fryer Oven with French doors is for you. Besides baking, with its air frying feature, you can get that great fried taste without the added calories or fat. Well, let's have a look at its main features:
Quick Features
Modern design, compact size, and medium capacity
Complete control over cooking through a responsive digital control panel
Easy usage and cleaning
Durability and warranty
Modern design, compact size, and medium capacity
When talking about the design of the Maxx Air Fryer Oven, we love its attractive design. This toaster oven has an entirely stainless steel front with glass-tempered doors. The French doors are easy to open and close with a single-hand pull.
It has a relatively medium capacity of 26 Quarts with 500-degree searing heat output. The capacity is enough to hold a whole chicken and a 12" large pizza without trouble. 
The oven has 12.5 x 15.75 x 14 inches dimensions and 17.2 pounds weight. It's pretty lightweight and compact with 1700 W power.
However, the French doors are the biggest shortcoming of the oven, according to several users. How?
They have no seal. It's why the condensation drips' complaints are frequent, besides the heat loss, which creates a dreadful mess on the countertop! 
Let's not forget all the nine accessories and a handy cookbook with this air fryer oven.
Accessories include a steak tray, bacon tray, air frying basket, air frying rack, rotisserie spit and forks, rotisserie handle, baking tray, rack handle, and crumb tray.
Overall, it looked like outstanding value for an air fryer oven with a lot of features at an affordable rate.
Complete control over cooking through the responsive digital control panel
Maxx Air fryer French door oven is exceptionally versatile. You can rely on this oven if you're a good cook and love cooking different foods. 
It has ten cooking options; air fry, bake, toast, sear, roast, braise, dehydrate, broil, warm, and a rotisserie option.
In this toaster oven, you can cook rotisserie chicken with restaurant-quality results. 
What else is great about this air fryer toaster oven?
The digital control panel is what everybody loves for the ease of cooking. The oven has a digital control panel with 21 smart presets settings on the top.
It has an on/off dial to start and end the cooking process. When you turn the process on, the function turns on the interior light, which is pretty bright. For your customized temperature and time need, you can find a rotating knob to set the temperature and the time that can be seen on the digital display.
Maxx Airy fryer oven heats quickly and reaches the desired temperature faster. It cooks food extremely fast and evenly without drying it out.
Because of its turbo max technology, it can cook food 37% faster because its temperature goes to 500 degrees. Moreover, It can save 77% more energy compared to a traditional oven.
Finally, the burst of heat helps a lot when it comes to ultimate cooking performance. But slight uneven cooking can be expected, particularly near the doors that have some gap between them—it's the kinda essential evil that you'll find in almost all French door countertop ovens. 
Easy Cleaning 
The oven is easy to clean because its interior and exterior are both of stainless steel. You'll find a drip tray in the accessories for cleaning. It'll catch all the crumbs and won't let the interior dirty. However, you would wish that it were wider and deeper.
Cleaning the exterior, despite the sleek stainless steel, becomes painful when the grease or food splatters in the ceiling where heating elements sit. In the same way, the fan is also at risk of catching debris because of no protection.
Durability and warranty.
The material is stainless steel, so you don't need to worry about durability. The build quality is excellent, and the oven works perfectly.
All the accessories with the oven are also sturdy and made with quality material. Plus, the Maxx air fryer oven comes with a 1-year limited warranty, which is good.
What are the pros?
Easy-to-read digital control panel
Compact and lightweight 
It can air fry perfectly besides baking and roasting
Excellent heat output of up to 500 degrees Fahrenheit
Affordable
What are the cons?
The glass doors fog up, and water drips out from the bottom of the doors when cooking.
Dial sounds and beeps are loud
It generates heat and can make the kitchen warmer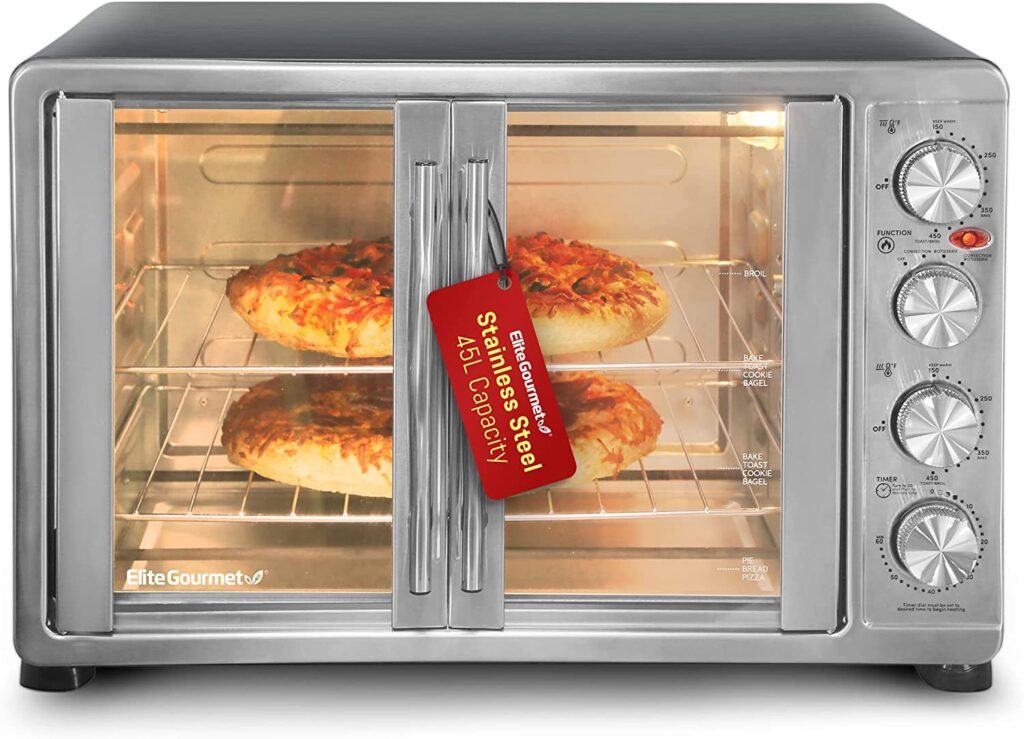 It's a simple yet elegant French door convection oven that stands out when it comes to ease of use and performance.
Let's discuss it in full detail:
Quick features
Compact design and large capacity
Temperature control and excellent cooking performance
Ease of cleaning
Durability and warranty
Compact design and capacity
Elite Gourmet convection toaster oven has an absolutely gorgeous design. Its stainless steel exterior with black color looks so sleek in your contemporary kitchen's interior. 
Its French-door design is convenient, and it doesn't take up a lot of space either. The toaster oven has an enormous capacity of 45 Liters with four rack positions. So, you can cook whatever you want, from toasting to rotisserie, without hassle.
Plus, the toaster oven comes with two removable wire racks, one baking pan, one crumb tray, one rotisserie rod and prongs, one rotisserie removal tool, and one tray removal tool. 
Temperature control and cooking performance
The toaster oven offers a control panel of four rotating knobs, as shown in the picture.
The top one is the temperature gauge for upper heating elements. You can set the temperature to 450 degrees by rotating the knob. 
The second one has a preset to select the options (convection, rotisserie, and convection rotisserie). The third one is another temperature gauge for lower heating elements. Selecting the timer is the last one. 
You can set the timer to 60- minutes. Besides this, an interior light monitors your food while cooking without opening the doors. 
This toaster oven will make you feel proud to cook crispy and flavorful food. Each setting has a consistent temperature, so you can cook anything fast and evenly without confronting issues.
Ease of Cleaning
Elite Gourmet toaster oven comes with a crumb tray for easy cleaning. The accessories are stainless steel and dishwasher safe. You just have to take them out and place them in the dishwasher afterward.
Cleaning the toaster oven is also easy. Simply wipe down the cooking region with a towel, and you're all set.
Durability and Warranty
The material is stainless steel, and the overall quality is good. It comes with a 1-year limited warranty, but don't worry; it'll definitely last longer. The oven is worth every penny. 
The issue we noticed regarding the material is that the oven racks aren't strong enough to hold heavier items. So this can be a negative point. 
What are the pros?
Versatile capacity 
The rotisserie function is a plus
It cooks food quicker and consumes less energy
Excellent price
The heating elements are individually controlled
What are the cons?
The exterior and door handles get screamingly hot
Not an air fryer
The racks are highly flimsy
How should you Choose the Best French Door oven?
There are so many options available for cooking appliances that it's hard to know where to begin. 
How do you know what features you need, what design will fit your kitchen, and how much you need to spend?
To help make the right decision, we've put together some helpful tips to consider when buying a French door toaster oven. 
Consider all these factors before making a final decision on which model is suitable for your needs.
Trustworthy Manufacturers
Which brand is your best choice? Is it making good quality products?
The brand is the primary factor when looking for a French door toaster oven. Just the trusted and well brands make the best and top-notch toaster ovens.
A wide range of brands of French door toaster ovens are available, so picking one you can trust is essential.
You should look at the trusted brand while purchasing the toaster oven.
Design
Like the brand, the design is another significant factor. The best for you'll be the modern-designed one that looks perfect with your kitchen's decor. Also, the one you think works better in your current environment.
Remember, a nicely designed French door toaster oven will help you toast, cook, roast, and bake. Plus, it'll also help you expand the magnificence of your kitchen stylistic decor.
Size and Compactness
Size is one of the main significant variables when picking a French door toaster oven. The models arrive in various sizes, so choosing one that will fit your kitchen is essential. 
You should get your best French door toaster oven with the best and ideal size. 
Build Quality 
Getting a French door toaster oven with low-quality thin material is nothing–but a waste of your money. 
It's essential to ensure you get a quality product that will last longer. While you should always try to find the best value for your money, you don't want to sacrifice quality.
First, ensure the controls feel sturdy, and the buttons are easy to press. Also, the exterior should be made of high-quality material and be durable enough to withstand daily use.
Durability and warranty
When buying a kitchen appliance, it's crucial to make sure you choose a durable model that will last for a long time. 
If it breaks down after the warranty, it can be inconvenient and cost you a lot of money to replace it. When choosing a French door toaster oven, you'll be using it daily, so it must be durable to withstand regular use. 
It's also essential to ensure the manufacturer offers an extended warranty on the product. So you can be covered if it breaks down during the warranty period.
Capacity and Functionality
When choosing a French door toaster oven, there are a few factors to consider that will determine how functional it's. 
First, it's essential to ensure it can fit a considerable amount of food or a large pizza inside. If you regularly cook for family or friends, you'll want to look for a toaster oven that allows you to quickly fit in an immense amount of food. 
The controls should be easy to use, whether cooking with it regularly or only using it once in a while. Choose the labeled controls and screen displays that are not difficult to peruse.
It's also essential to choose a model that allows you to use different cooking functions like defrosting, grilling, baking, cooking, etc.
Most toaster ovens with French doors are convection heaters. This feature will allow you to warm dishes rapidly and evenly browned food equitably. Yet, you might need one that is likewise an air fryer or one with a dehydrator.
Ease of cleaning
You may want a toaster oven that is easy to use and clean. Some French door toaster ovens have accessories to keep the inside tidy.
Remember that some toaster ovens can be hard to clean because they're too small to fit your hand inside. So don't go for them.
You should choose a model with removable accessories that are dishwasher safe.
Price
It's easy to get caught up in the excitement of a new purchase and spend more than you intended. 
It's essential to sit down and decide how much you can afford to spend on a toaster oven before shopping. You can find many toaster ovens. So, you'll likely be able to find one to suit your price range. 
If you buy the cheapest French door toaster oven, you may find that it breaks down faster than a more expensive model. 
A more expensive French door toaster oven will probably be made from higher-quality materials. It'll last longer, so it's vital to consider the long-term cost of the appliance when making your decision.
Advantages
There are many advantages to owning a French door toaster oven over a traditional oven. The main benefits include those toaster ovens use much less energy than an oven. Also, you can use them in various cooking tasks.
Toaster ovens cook food more evenly than microwaves. They come in various sizes and capacities to fit your needs. 
They're also easier to use and more convenient. You can quickly and efficiently prepare a meal without heating your entire kitchen.
FAQs
Why do the doors of a French door toaster oven break?
Door shattering is a mostly reported issue not only with double-door ovens but all other ovens. Honestly, tempered glass isn't compromised. Yet, it's because of micro cracks on the oven door resulting from contrasting the oven temperature suddenly. You can prevent it by:
Changing the oven temperature gradually when you need to increase or decrease the temperature;
Not cleaning the oven doors with a damp towel when the oven is hot. Alternatively, let the oven first reach room temperature and then clean it.
Do French door toaster ovens are good for air frying?
No, the toaster or convection ovens are not air fryers at all. They only have an air frying rack. Similarly, they might not make a good dehydrator, though the product specs mention it. By all means, with top and bottom heating elements, and a convection fan, these ovens produce enough heat and help you bake and roast your foods.
Why are French door countertop ovens low-rated?
When you search the internet, finding a high-rated French door oven is challenging. 
Are they bad?
Not really!
The double door oven doors have a slight gap between them. This gap is essential to ease the door's opening and closing without striking them against each other. 
Some users believe this gap causes heat loss and also causes convection moisture to drip and cause a mess. It makes them leave negative feedback about the ovens.
In the same way, the oven door shattering, though realistic, also disappoints the users.
Last, the over-mentioning of some features that ovens cannot comply with, e.g., air frying, dehydrating, etc., also causes a dropped rating for the product. 
So, start believing that the ovens can have gaps between doors as a complementary part of the design, the doors can explode, and the ovens can bake or roast more than air frying, etc.
What's the Best French Door Countertop Oven?
According to our findings, the Oster ovens make the best French door toaster ovens. Though not much, there is a relatively precise temperature control of 25 degrees. You get what you pay for. You can make the most satisfactory decision by compromising on price and spending more. 
Yet, if you want a budget option, the ovens by Luby and Elite Gourmet are also excellent.
No matter what you choose, let us know about it in the comment section. 
GOOD LUCK!
mama-cucina.com is a participant in the Amazon Associate program and will earn from qualifying purchases.