Heavy cleaning frustrates you, but at the same time, you want to enjoy the healthiest and fresh juices under the sun. You're fortunate, for it's possible to get some best easy-to-clean juicers now.
No matter what your budget range, we've done excellent research to find you the most reliable juicers that are easy to clean to let you enjoy every sip of heavenly drips after extracting them.
Below we've listed the easy to clean juicer, moving from the easiest to easy.
So, read keenly to find the most suited one for you.
Best Easy to Clean Juicers for 2023 (Quick Overview)
Best Easy to Clean Juicers List for 2023
Here are our top-picked juicers list that are easy to clean. These are varying type of juicers falling under different budgets. You can decide on your favorite juicer, depending on your needs.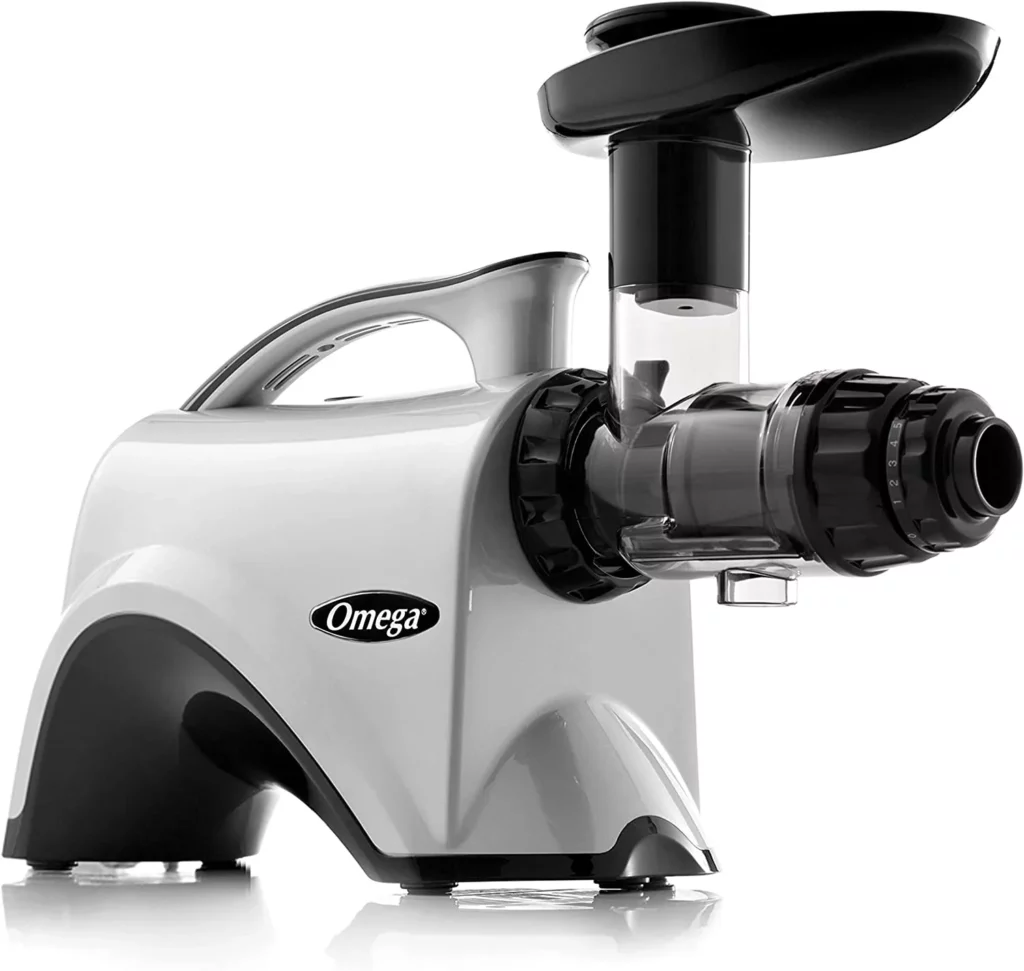 First comes the famous and trustworthy Omega NC800HDS Cold Press Juicer for healthy and tasty creations! This slow juicer operates at 80 RPMs, preserving nutrients and enzymes in your juice while minimizing heat and oxidation. Get ready for a nutrient-packed sip!
Powered by dual-stage masticating technology, this juicer extracts the maximum nutrients and flavors from fruits, veggies, greens, and wheatgrass. It's efficient and delicious!
But wait, there's more! This versatile juicer does more than just juicing. It lets you make nut butter, fresh pasta, grind coffee beans and spices, mince herbs and garlic, prepare baby food and frozen desserts, and whip up soy milk. Feel free to unleash your creativity!
The Omega NC800HDS is designed for your convenience. Adjust the end cap to your preference for maximum juice output. The automatic pulp ejection system ensures continuous juicing without interruptions.
Using this juicer is a breeze. It's equipped with a powerful 2hp motor, yet quiet at the same time. This motor effortlessly handles tough ingredients.
In short, the Omega NC800HDS Cold Press Juicer Machine is your partner in creating nutritious and tasty concoctions.
Why is this juicer easy to clean?
The Omega NC800HDS Juicer Extractor & Nutrition System is often regarded as easy to clean for several reasons:
The juicer has detachable parts that are easy to clean by hand in just 5 minutes. While the parts are dishwasher safe according to the manufacturer, it is not recommended to put them in the dishwasher.
It comes with a special brush to clean hard-to-reach areas and has an automatic pulp ejection system that reduces the amount of pulp to clean.
The Omega NC800HDS juicer is made of durable stainless steel that is resistant to stains and easy to clean.
Its slow and efficient juicing process minimizes the chances of pulp or fibrous materials getting stuck.
Pros of Omega NC800HDS Cold Press Juicer Machine
Efficient juice extraction through a powerful 2hp motor
Preserves nutrients and enzymes in the juice
Can handle leafy greens and wheatgrass
Quiet and stable unit
Versatile, it can also make nut milk, baby food, pasta and sorbets.
1 year warranty
Cons of Omega NC800HDS Cold Press Juicer Machine
The juice can be thicker.
Larger size may take up more counter space
Higher price point compared to some other juicers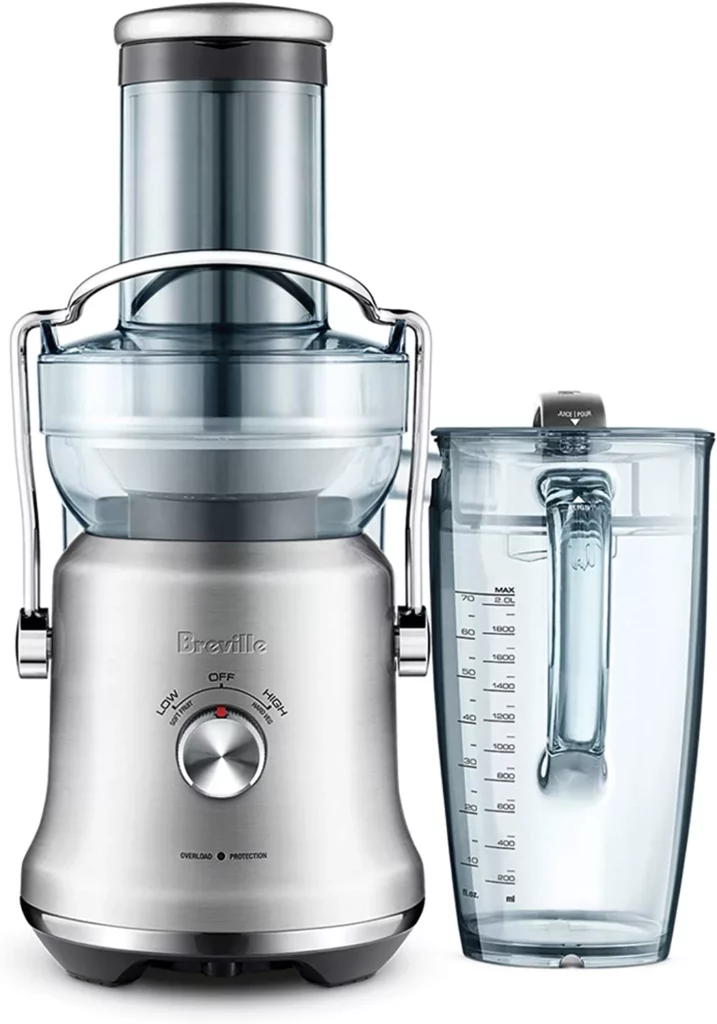 Second in our list for best juicers easy to clean is the Breville Juice Fountain Cold. It's a workhorse that can make 70 oz of delicious juice in no time. Thanks to its strong 850-watt motor that can handle even the toughest fruits and veggies in just a few seconds.
The juicer uses a special Cold Extraction System, which includes Cold Spin Technology and a precise mesh filter made in Italy. This system keeps the juice cool and avoids excessive processing, so you get all the nutrients and vitamins.
Get this juicer to feed your entire family with a nutrient-rich juice. How?
This juicer has an extra wide 3.5 inches chute to take whole fruits and veggies. Besides this, the juice jug that comes with it is big, holding 70 oz of juice. So, it's perfect for serving the whole family or saving some for later.
The juicer has a handy LED display lights up if the motor gets overloaded, which helps you avoid any problems and keeps the motor running smoothly.
The Breville Juice Fountain Cold also comes with useful accessories, like a jug with a froth separator, a detachable spout for pouring into a glass, and an easy cleaning brush.
It can handle large amounts of juice and pulp with its 70 oz jug and 3.6 qt. pulp container.
You can customize your juicing process with the two-speed settings. Adjust the speed based on what you're juicing for the best results.
And don't worry, the juicer comes with a 1-year limited warranty. Breville stands behind their product and wants to give you a reliable juicing experience.
So, why wait? Get the Breville Juice Fountain Cold and enjoy fresh, healthy juice right at home. Start your juicing journey now and live a healthier lifestyle.
Why is this juicer easy to clean?
The Breville Juice Fountain Plus is an outstanding juicer that's super easy to clean. Here's why:
This juicer comes with parts with easily detachable parts. So, cleaning becomes a breeze when you can break it down with no fuss.
Good news! A lot of the parts of the Breville Juice Fountain Plus can go straight into the dishwasher.
The extra wide 3.5 inches chute is way easier to clean.
The smooth surfaces of this juicer without those annoying little crevices make cleaning way easier.
The parts are simple so that they don't trap any gunk or debris.
For further help, the machine comes with a cleaning brush as well.
Pros of Breville Fountain Cold Plus Juicer
Extra wide 3.5 inches chute makes the juicer easy-to-use.
Cold spin technology for minimal heat transfer
Durable machine with a lustrous finish
Most accessories and parts are dishwasher-safe.
BPA free accessories
1 year warranty
Cons of Breville Fountain Cold Plus Juicer
Breville customer support is less helpful regarding warranty.
This big machine is noisy.
Expensive
Needs more counter space
Not as portable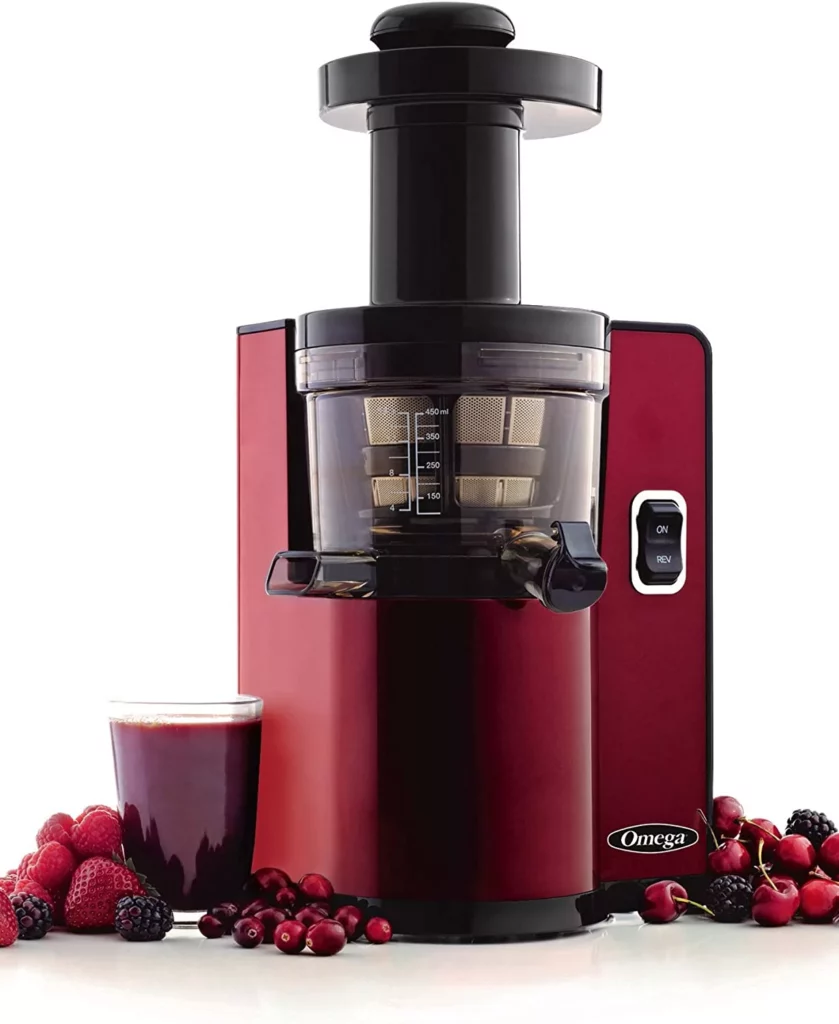 Omega VSJ843QR Vertical Masticating Juicer is one of the easiest to clean juicers. It operates at a slow 43 RPM following Slow Squeezing Technology (SST). The process ensures a gentle squeezing action that keeps healthy enzymes intact. Resultantly, your juice is packed with nutrients and flavor besides having a longer shelf life.
Also, the SST process ensures that less pulp remains in your juice, resulting in a smoother and more enjoyable drinking experience.
Why chunky juice, then?
The machine's dual-edge auger has a tighter fit tolerance, which delivers high yield juicing. It efficiently strains more juice and breaks down fiber to a palatable level, ensuring that you get the most out of your ingredients. Enjoy nutrient-dense juice that is both flavorful and satisfying.
Another cleaning friendly feature of Omega Juicer is its no-drip juice tap at the end of the juice spout. During juicing, you can close the tap to mix different juices or make nut milks with no spills. After juicing, simply close the tap to remove the juice cup without making a mess.
The Omega VSJ843QR Vertical Masticating Juicer is a breeze to clean because it has a cool self-cleaning feature. All you gotta do is add a few drops of dish soap, give it a quick whirl for a few seconds, and voila!
The soap works its magic and loosens up any stubborn food bits. After that, just rinse it with some warm water and pat it dry with a clean towel. Easy peasy lemon squeezy!
Why not grab the combo of convenience and benefits in the Omega VSJ843QR Vertical Masticating Juicer?
Why is this juicer easy to clean?
Cleaning the Omega Juicers Vertical Masticating juicer is as easy as pie. Here is why:
Above all, the self-cleaning feature lets you clean the machine by using a few drops of dishwashing liquid and some water.
This juicer has easily detachable parts. So, cleaning each part separately is a breeze!
The juicer comes with a cool pulp ejection system. It automatically separates the pulp from the juice as you go.
The surfaces of this juicer are nice and smooth which only need a moist wipe.
Since it's a masticating juicer, it produces less foam and a higher yield of juice. That's good news for cleaning because there's usually less gunk left behind. A quick rinse under the tap is often enough to get it squeaky clean.
So, go ahead, enjoy your tasty creations, and clean up with ease!
Pros of Omega VSJ843QR Vertical Masticating Juicer
Efficient self-cleaning feature
High-quality masticating juicer
Preserves nutrients and flavor
Quiet operation
Versatile juicing capabilities
Omega VSJ843QR Vertical Masticating Juicer
Expensive compared to other juicers
Slow juicing process
Smaller feed chute may require more prep work
No information if the Omega Juicer has BPA free parts.
Some parts may be delicate and require careful handling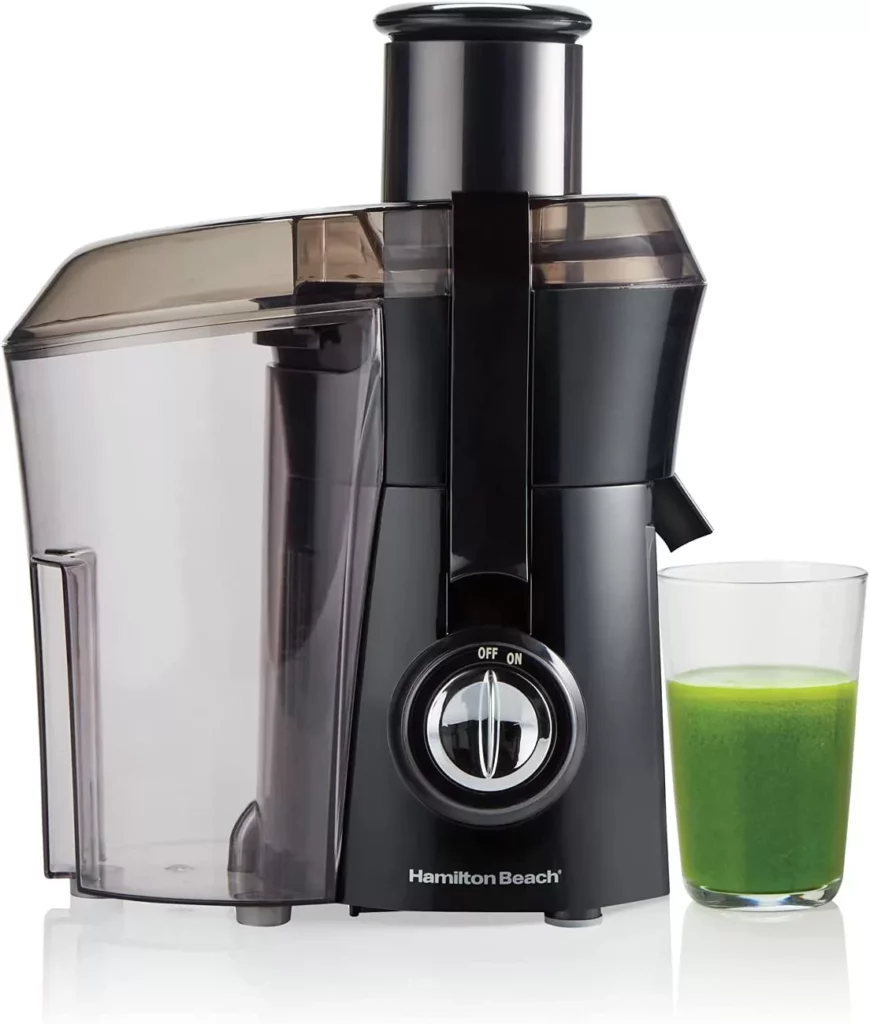 The best easy-to-clean, affordable, nearly $50, Hamilton Beach Juicer Machine is your ticket to healthy, homemade juice. With its powerful 800 watts, this juicer can handle a variety of fruits and vegetables, allowing you to enjoy fresh, nutrient-rich juice.
Assembly is a breeze with the easy-to-use design of this juicer. The extra-large pulp bin ensures you can juice continuously with no frequent emptying. Please note that the juice cup is not included with the juicer.
No more pre-cutting your produce thanks to the extra-large 3-inch feed chute! You can fit whole fruits and vegetables like apples, oranges, or handfuls of kale directly into the juicer. This saves you time and effort while providing you with fresh fruit and veggies juice.
Cleaning up after juicing is a simple task with the Hamilton Beach Juicer Machine. The removable parts are dishwasher safe, allowing for easy and convenient cleaning. Rest assured, these parts are also BPA-free, ensuring the safety of your juice.
So, whether you're juicing a dense beet or any other hard produce, Hamilton Beach Juicer can transform it into smooth juice in seconds.
Why is this juicer easy to clean?
Cleaning the Hamilton Beach Juicer Machine, Big Mouth Large 3″, is a total breeze, and here's why:
It has a big 3-inch larger chute that makes cleaning easier too!
Many of the parts are dishwasher-safe, so you can let the dishwasher do the work.
With fewer accessories to deal with, cleaning is simple.
The smooth surfaces ensure no pulp or residue gets stuck, and a quick wipe is all it takes.
It's designed to minimize mess, with a spout that directly dispenses juice into your glass.
Hence, quick cleanup means less time spent cleaning up!
Pros of Hamilton Beach Juicer
Big 3-inch feed chute
Dishwasher-safe parts
Fewer parts for easier cleaning
Smooth surfaces for easy wiping
Quick cleanup with a spout that minimizes mess
1 year warranty
Cons of Hamilton Beach Juicer
Noisy operation
Not suitable for extracting juice from leafy greens or wheatgrass
May produce some foam in the juice
The residue comes out wet, which means the juice is not fully extracted.
You need to add water when juicing soft fruits like apples and cucumbers, etc.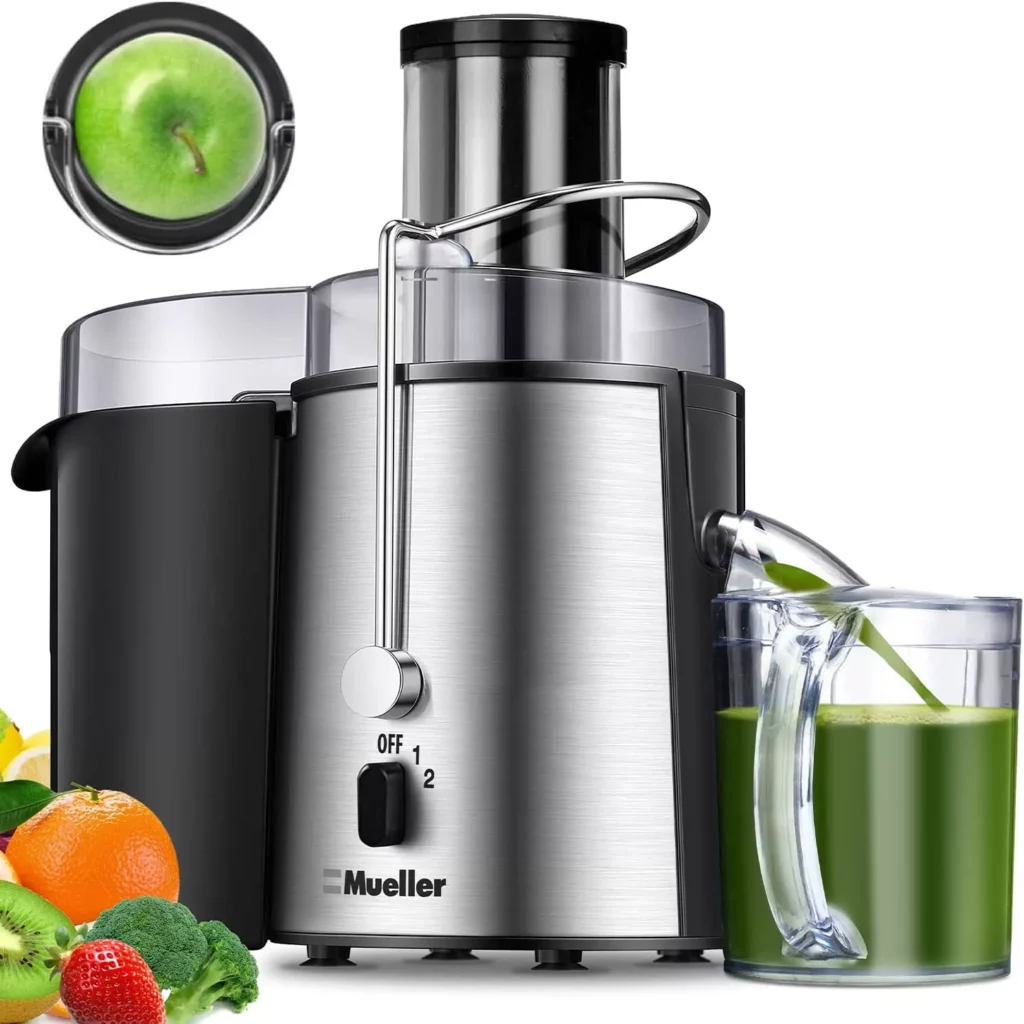 Here comes another best easy to clean juicer under $100. It's the Mueller Ultra Power Juicer. It's a compact and powerful juicer to help you drink healthier by incorporating more fruits and vegetables into your diet!
With dual speeds, you have the flexibility to juice a variety of foods. Select the high-speed setting (12000-15000 rpm) for harder ingredients and the low-speed setting (15000-18000 rpm) for softer ones. This versatility allows you to extract maximum juice from different foods, ensuring you get the most out of your ingredients.
The Mueller Ultra Juicer features a convenient 3″ wide feed chute, making it easy to insert prepared vegetables and fruits. The included pusher helps you feed the produce into the chute effortlessly.
Safety is paramount! Therefore, this juicer includes an overload protection auto shut-off feature to prevent any mishaps. The locking arm keep the lid secured in place during operation.
Cleaning up after juicing is a breeze. Its stainless steel blades can be easily cleared of debris using the included brush.
So, stop worrying about cleaning and sip on a refreshing glass of healthy juice!
Why is this juicer easy to clean?
Cleaning the Mueller Juicer Ultra Power is a walk in the park, and here's why:
Easy disassembly makes cleaning a breeze. Just remove the juicing chute, pulp container, and juice container for cleaning.
The juicer separates the pulp from the juice, making cleanup easier.
The juicer's surfaces are smooth with no hidden spots for pulp or residue to stick. Just wipe it down, and it's clean.
The machine minimizes mess, so a quick rinse under the tap does the trick
So, when it's about cleaning, the Mueller Juicer Ultra Power has got your back!
Pros of Muller Centrifugal Juicing Machine
Easy to clean
Efficiently separates pulp from juice
Smooth and easy-to-clean surfaces
Minimizes mess and splatter during juicing
Timesaving cleaning process
BPA free parts
2 year warranty and Muller customer support is great.
Cons of Muller Centrifugal Juicing Machine
Noisy
Might heat up the juice
Not as versatile as some other juicers
Not suitable for dishwashing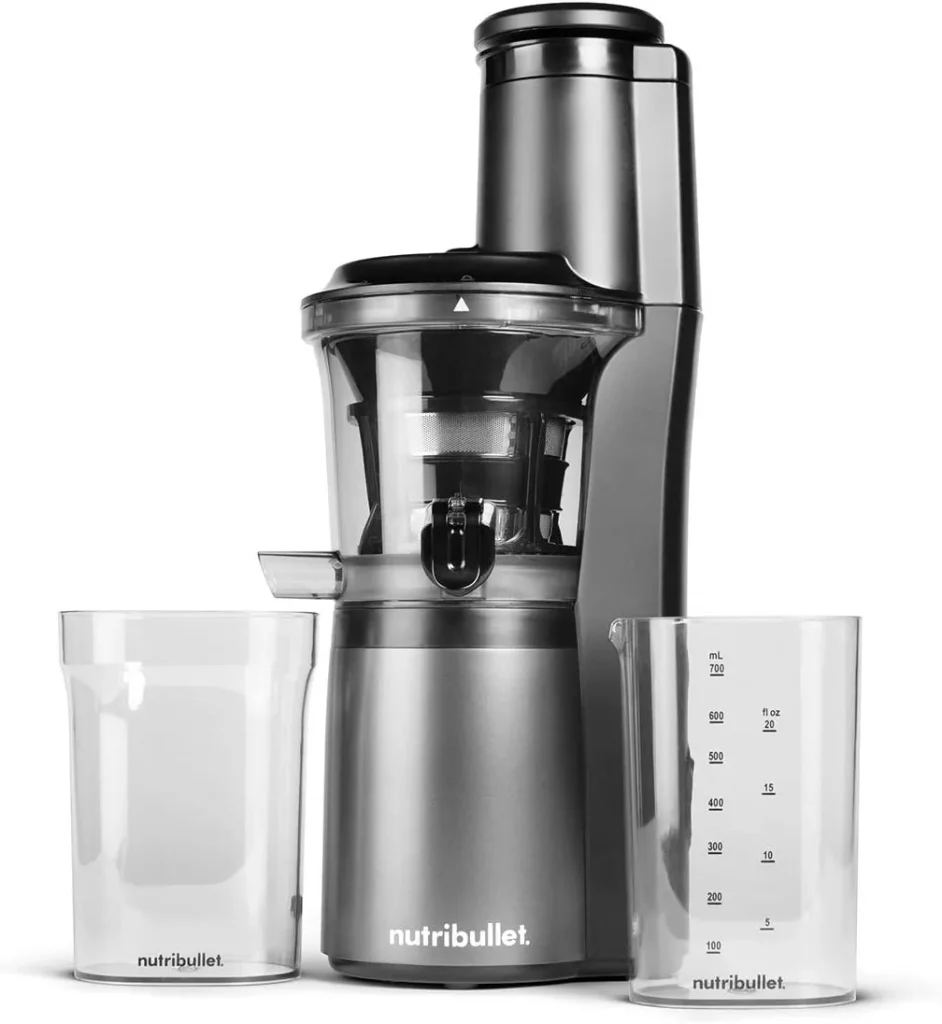 When hunting for a Nutribullet Slow Juicer, a small but mighty machine that gets the most out of your fruits and veggies!
This slow masticating juicer may be compact, but it can handle any juicing task with ease. Measuring just 7″ L x 6.25″ W x 17″ H when assembled, this juicer fits perfectly into any kitchen without taking up much space.
Made with a durable steel-tipped auger, the Nutribullet Slow Juicer is built to last. Its stainless steel components guarantee longevity and deliver maximum juice extraction.
The 3″ feed chute allows you to juice larger quantities of produce with no pain. Its high-torque, low-speed motor operates quietly at 65 RPM, ensuring every bit of nutrition is extracted from your ingredients. Don't underestimate its strength!
The Nutribullet Slow Juicer doesn't come alone—it includes a range of accessories to enhance your juicing experience. From the 150W motor base to the juice bowl with a no-drip spout, a grinding assembly, a juice container, a pulp container, a screen-cleaning brush, and a handy User & Recipe Guide, everything you need is right there.
Cleanup is a breeze thanks to the no-drip spout and dishwasher-safe parts. Say goodbye to the headache of cleaning up after juicing!
So, be ready to unlock the full potential of fresh, nutrient-rich juices with powerful Nutribullet Slow Juicer.
Get juicing now!
Why is this juicer easy to clean?
Many users have been impressed with the clean-up process of Nutribullet Slow Juicer. Why?
It has a simple design; the unit is easy to disassemble
The built material is sleek stainless steel. It's why the smooth surface only needs a single wipe with a damp cloth after ending juicing.
All accessories come with dishwasher-safe goodness, except the pusher and auger.
Nutribullet knows what's up! So they've included a special cleaning brush designed specifically for this juicer to clean all those nooks and crannies of the juicer.
Pros of Nutribullet Slow Juicer
Efficient juice extraction
Preserves nutrients and minimizes oxidation
Versatile, can handle a wide range of ingredients
Can make nut milk
Quiet operation
Comes with 1 year warranty
Cons of Nutribullet Slow Juicer
Slow juicing process
Higher price point
Requires more prep time because of smaller feed chute
The cleaning brush is fragile.
Can clog on fibrous material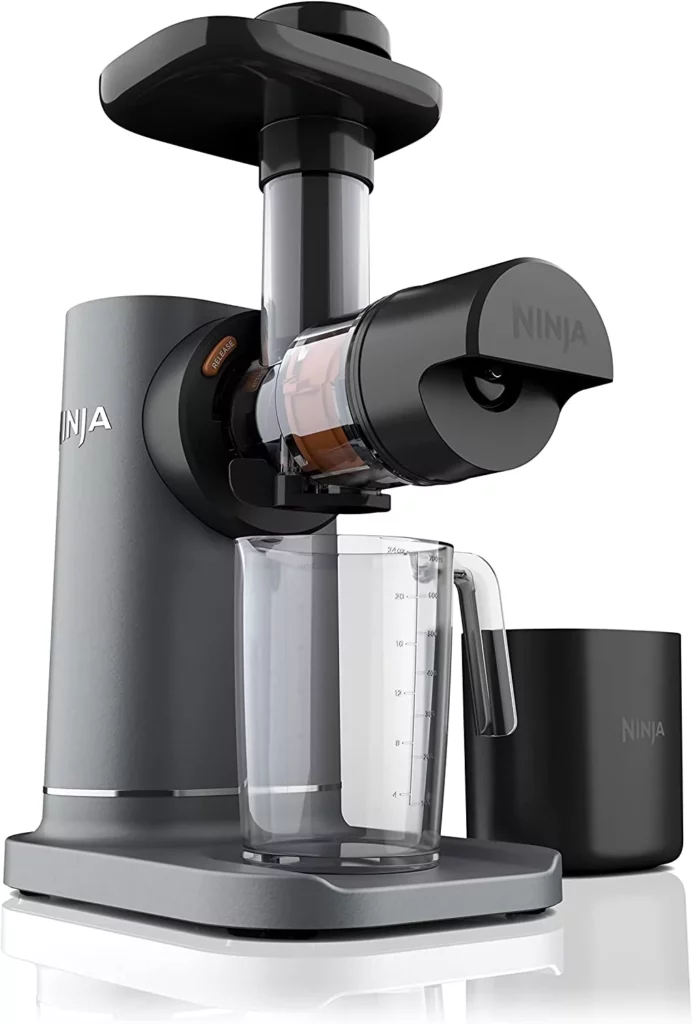 Among horizontal juicers, here comes a more affordable, easy-to-clean juicer,  Ninja JC151 Cold Press Juicer. It's the ultimate juicer powerhouse that never quits! It can handle even the toughest ingredients, giving you mind-blowing performance.
The Ninja JC151 is designed for convenience. It's got two super easy programs – Start/Stop and Reverse – so juicing becomes a breeze. The powerful motor base with high-torque rotation extracts maximum nutrition from your fruits and veggies while keeping heat and oxidation at bay. Get the most out of your ingredients with every glass.
With the awesome Total Pulp Control feature, the Ninja JC151 lets you customize your juice exactly the way you like it. So, you can choose between two interchangeable pulp filters – Less Pulp or Lots of Pulp – and say goodbye to disappointing juice experiences. Sip on your juice just the way you want it!
Setting up the Ninja JC151 is a piece of cake. It's simple to assemble and cleaning is a cinch with dishwasher-safe parts that come in contact with juice. No more tedious scrubbing or maintenance. Plus, the anti-drip lever keeps everything clean and avoids any mess or waste.
Size matters and the Ninja JC151 gets it. It's compact, so you can easily store it or slide it neatly under your cabinets. So, you can enjoy the luxury of having a powerful juicer within arm's reach, without taking up valuable kitchen space.
But wait, there's more!
With the Ninja NeverClog Cold Press Juicer, you're not just getting a juicer. The package includes a 150-watt motor base with an auger, two interchangeable pulp filters for total control, a 24 oz. juice jug, 36 oz. pulp container, and an awesome Inspiration Guide packed with 15 tantalizing recipes. Unleash your creativity and explore a whole new world of delicious juice combinations.
Why is this juicer easy to clean?
The Ninja JC151 Cold Press Juicer is incredibly easy to clean, making it super convenient for you. Here's why:
All juice-touching parts are dishwasher safe. Just pop them in and let the dishwasher do the work.
Disassembling and reassembling is super easy. So, no complicated steps or confusion.
The cool anti-drip lever keeps everything clean, preventing messy spills while juicing or during cleaning.
With smooth surfaces, there's less chance of pulp getting stuck. Wipe it down quickly with a cloth or sponge.
Designed to be clog-free, no complex parts or mechanisms to worry about. Say goodbye to frustrating blockages.
In short, the Ninja JC151 Cold Press Juicer is a cleaning champion.
Pros of Nutribullet Slow Masticating Juicer
Versatile juicer is equally suitable for leafy greens
Total Pulp Control with interchangeable filters allows you control juice thickness
Two one-touch programs for simple use.
Powerful high-torque motor base.
Easy setup and cleaning.
Compact size for easy storage.
Dishwasher-safe parts for easy cleaning.
Comes with additional accessories and a recipe guide.
Cons of Nutribullet Slow Masticating Juicer
Tough and hard food like carrots may get stuck
Not a study unit
Relatively high power consumption
The juicer's jug and pulp container are small and may need to be emptied frequently.
The cord length is short.
Why Are Some Juicers Easier to Clean Than Others?
When it comes to juicers, ease of cleaning is a game-changer. Here are a few features that make a juicer easy to clean:
Removable Parts
Easy to clean juicers have removable parts. These include the juicing chamber, pulp container, juice container, and any additional attachments. Being able to take these parts out makes the cleaning process much more manageable.
Dishwasher-Safe Components
An easy-to-clean juicer should have removable parts that are dishwasher-safe. Being able to pop them in the dishwasher saves you time and effort. Just read the user manual to ensure which parts are safe for the dishwasher.
Smooth Surfaces
Juicers with smooth surfaces and minimal crevices are easier to clean. It prevents food particles from getting stuck in hard-to-reach places. A quick wipe with a sponge or cloth should do the trick.
Cleaning Tools
Some juicers come with specialized cleaning brushes designed to reach tight spots and remove pulp or residue from the juicing screen or other components. These brushes can be a lifesaver and make the cleaning process more efficient.
Quick Rinse Feature
Certain juicers have a quick rinse feature or allow you to run water through the juicer to flush out any remaining pulp or juice. This can be handy for a quick clean-up in between juicing different ingredients.
Pulp Ejection System
A juicer with a pulp ejection system directs the pulp into a separate container. This not only ensures easy removal of pulp but also reduces the chances of clogging and makes cleaning less of a hassle.
Remember to always follow the manufacturer's instructions for cleaning and maintenance. Disassemble the juicer carefully, rinse the parts with water, and use a mild detergent or the recommended cleaning solution to remove any residue. Allow the parts to air dry before reassembling the juicer.
By choosing a juicer with these easy-to-clean features, you'll save time and effort in maintaining your juicer's cleanliness. Thus, it'll make your juicing experience more enjoyable.
What Other Factors Should You Consider When Choosing a Juicer?
Picking the perfect juicer can totally change your juicing game. There are so many options out there, it's like a juicer paradise!
But no worries, I got your back. Let's dive into some things you should keep in mind when choosing a juicer.
Types of juicer
First off, let's talk about the different types of juicers.
We've got centrifugal juicers, masticating juicers, and citrus juicers. Centrifugal ones are super speedy and efficient, but they may not give you the top-notch juice quality you're craving.
Masticating juicers work at a slower pace, keeping more nutrients intact and allowing you to juice a wider variety of fruits and veggies. Now, citrus juicers are your go-to if you're all about that orange and lemon goodness. So, think about the produce you plan on juicing most to figure out which juicer type suits you best.
Now, if you're all about that juice quality and want to keep those nutrients at their peak, go for a masticating juicer. These slow and steady champs squeeze the juice out while minimizing heat and oxidation. Say goodbye to foam and hello to more juice! Trust me, you'll love it.
Ease of use
Next up, we've got ease of use. Look for juicers that won't make your life a juicing nightmare. You want something easy to assemble, operate, and clean. Bonus points if the parts are dishwasher safe, saving you precious time. Oh, and check for wide-feed chutes that can handle bigger pieces of produce. No more pre-cutting madness!
Speed
Speed options can have a significant effect on juice quality too. Some juicers let you adjust the speed based on what you're juicing. So, if you're dealing with various fruits and veggies with different textures, you can switch things up for the perfect juicing experience.
Noise Level
Let's talk about noise. No one likes a loud juicer that wakes up the entire neighborhood. Masticating juicers are quieter, so if you're all about peace in the kitchen, they're your best bet.
Durability
Durability is key. You want a juicer that's built to last. Look for ones made with high-quality materials like stainless steel or heavy-duty plastic. And don't forget to read those customer reviews to make sure the brand is reliable and trustworthy.
Compactness and Storage
Consider the size and storage too. Inspect your kitchen counter space and pick a juicer that fits like a glove. Compact designs are perfect for cozy kitchens, while larger models may offer extra features and more capacity.
Affordability
Budget time! Set your budget range before you start your juicer hunt. Prices can vary a lot based on the brand, type, and extra features. So, figure out your budget and decide which features are the most important to you.
Warranty and customer support are crucial too. Look for juicers that come with a warranty to cover any potential defects. And don't forget to check out the manufacturer's customer support rep. You want someone reliable to turn to if you need help or have questions.
By considering all these factors, you'll be armed with the knowledge to pick the juicer that suits your juicing goals and style. Whether you're all about that juice quality, easy peasy use, or special features, the right juicer will make your juicing journey a total blast.
Cheers to a healthier lifestyle, my friend!
FAQs
Which part of a juicer is the hardest to clean?
For cleaning, the trickiest part of juicers is probably the mesh filter. Yeah, that little guy responsible for separating the juice from the pulp.
It can get clogged up with tiny bits and fibers, making it a bit of a challenge to get completely clean.
But hey, no worries!
Most juicer manufacturers have got your back with a handy cleaning brush that makes tackling that filter easier. So, with a little extra attention and the right tools, you'll be able to keep your juicer squeaky clean without too much hassle.
How do I clean the clogged screen mesh of my juicer?
You can clean clogged juicer screens using OxiClean easily. Here is how to do it:
Grab some OxiClean powder (or a similar oxygen-based cleaner), a big enough bowl or container for the screen, and a soft brush or toothbrush.
Carefully take apart your juicer as per the instructions and remove the clogged mesh screen.
Fill your bowl with warm water and follow the instructions on the OxiClean package to figure out how much powder to use. Dissolve the powder in the water.
Put the clogged screen into the OxiClean solution, making sure it's completely underwater. Leave it there for around 1 to 6 hours according to OxiClean depending on how clogged it is.
After the soaking time, use a soft brush or stainless steel mesh scrubber (if it's been clogged for so long) and gently scrub away any gunk or blockages. Pay attention to the tiny holes in the mesh and clean them well.
Once you've given it a good scrubbing, rinse the screen under warm water to get rid of any remaining residue or OxiClean solution. Make sure everything is washed away.
Pat the screen dry with a clean towel or let it air dry completely. Once it's dry, assemble your juicer again, following the manufacturer's instructions, making sure the screen is in the right position.
Remember:
Before using OxiClean or any cleaning product on your juicer, always check the manufacturer's instructions to be sure it's safe. Some juicers may have specific cleaning guidelines or limitations.
Slow juicer vs masticating vs centrifugal juicer, what's the difference?
Different juicers work differently and have varying juice quality and versatility. Let's break it down:
Centrifugal Juicer spins fast. It separates the juice from the pulp but may have less juice and more foam. Great for hard produce.
Masticating Juicer works slower. It squeezes juice with a high yield and less oxidation. It's also versatile to extract juice from leafy greens and make nut milk, baby food, and sorbets. They're best known for retaining nutrients.
Slow Juicer is a type of masticating juicer that works even slower, preserving nutrients and minimizing heat. Efficiently extracts juice with dry pulp. It can handle greens, hard produce, nuts, and seeds. Costlier but provides superior juice quality!
In short, centrifugal juicers are fast but may have foam and less juice. Masticating juicers, including slow juicers, work slower, giving more juice and retaining nutrients. Consider your needs and desired juice quality when choosing a juicer.
Final Thoughts
So, we've checked out seven outstanding juicers that are super easy to clean. Each juicer has its own cool features and benefits, so there's something for everyone's taste. Whether you want convenience, efficiency, versatility, or specific functions, you'll find a juicer on this list that suits you.
But hey, the final call is yours to make. Considering your need, and the factors discussed in the buying guide section, you can make a wise decision.
We hope this guide has given you valuable insights and helped you narrow your options. Now it's time for you to decide and start your juicing adventure. Cheers to a healthy and refreshing life!
mama-cucina.com is a participant in the Amazon Associate program and will earn from qualifying purchases.